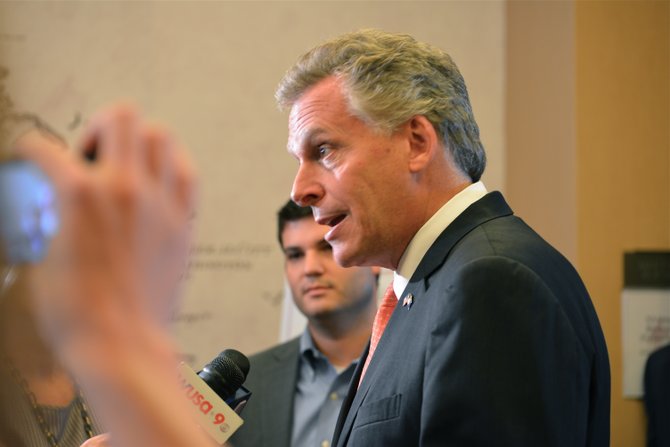 Virginia gubernatorial candidates Terry McAuliffe and Ken Cuccinelli were the keynote speakers at the fourth annual Virginia Small Business Partnership (VASBP) Summit, hosted by Miller/Wenhold Capitol Strategies LLC at The Mason Inn in Fairfax on Friday, Sept. 20. "We are thrilled to have them join us," said Paul A. Miller, chairman of the VASBP.
McAuliffe was first up, and with few words allocated to his own biography, launched into several specific proposals and ideas he pledged to implement if elected.
McAuliffe's remarks closely aligned with the program's agenda, touching on each of the main themes being addressed in the summit's breakout sessions: public/private partnerships, tax policy and reform, transportation, healthcare and the readiness of today's graduates for the workforce.
MCAULIFFE APPEALED for increasing the cap on Angel Investor investments and establishing more resources to help refine promising ideas even before they are ready for investors. While he encouraged entrepreneurship in all industries, McAuliffe called for an emphasis on Biotechnology and IT. "Cybersecurity is more important than ever," he said. "Virginia should be the national, even global leader in this field." The Democratic candidate also expressed a need to increase partnerships with high schools and Community Colleges, describing them as the "front lens of our economy."
Speaking on tax policy and reform, McAuliffe cited several current taxes and regulations that he deemed to "make no sense," calling them "burdensome," and vowing to work with localities to reduce or eliminate anti-growth taxes. "We need more Main Street options," he stated. He also touched on the topic of transportation, praising the passage of Virginia HB 2313, the Transportation Bill that finally provides funds for transportation projects. "In recent years, our ranking has fallen from first place, to the third, and now to fifth on the list of best places to do business. We need to get back to number one," he said, saying that a modern and efficient transportation infrastructure is essential to the economic life of the commonwealth.
Before completing his address, McAuliffe did step outside the confines of the VASBP's agenda, condemning the threat of a federal government shutdown over de-funding of Obamacare as "extremely harmful" to Virginia and linking his opponent to the House Republicans behind the measure. "Ken Cuccinelli needs to call his Tea Party allies … and tell them to put this ideological agenda aside … we can't afford it," he demanded.
MEMBERS OF THE AUDIENCE hoping to witness the candidates come face-to-face at the event were disappointed by the 20-plus minute delay in the arrival of Cuccinelli. The attorney general of Virginia opened his remarks with an overview of his personal, educational and employment background, as well as speaking of his involvement with numerous community care projects, which he described as "a distinction in this race." Referring to his tenure in the State Senate from 2002-2010, Cuccinelli said, "I will not need on the job training—another distinction."
After warning that sequestration and furloughing were causing "buffeting for the first time in Northern Virginia," he added, "I bring a plan and a positive vision." He invited the attendees to view his website for the details of his plan to add 58,000 new jobs to the commonwealth's economy. Like his opponent, Cuccinelli spoke of the need to close tax loopholes and to examine tax credits and to push to keep regulations down. "I am willing to fight to keep Washington off your backs," he declared.
Cuccinelli gave significant talking time to what he called the administration's "War on Coal," calling it a "war on our poor in Virginia," blasting the EPA's proposed emissions rules announced that morning, saying they would "cripple Virginia's coal industry." He also defended the need to keep Virginia a "Right to Work State," and to avoid unionization.
He reminded the crowd that he was the first attorney general to oppose the Affordable Health Care Act. "It's economically destructive, this one rule, like I've never seen," he said.
Cuccinelli wrapped up by naming some of the organizations that were endorsing his candidacy and "asking each and every one of you for your vote." Unlike McAuliffe, Cuccinelli did not take questions from the press after his speech. His staff cited schedule overruns, saying the candidate was late for a debate preparation session.