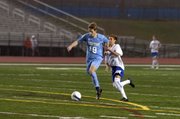 The Yorktown boys' soccer team faced the potential for a letdown on Monday, taking on a winless Robinson team three days after knocking off defending region champion Oakton.
The Patriots' level of play indeed dropped, but senior captain Joe McCreary stopped the bleeding in the game's closing minutes.
McCreary scored the go-ahead goal in the 78th minute, propelling Yorktown to a 4-3 victory over Robinson on April 7 at Robinson Secondary School. The win improved the Patriots' record to 5-1.
Yorktown seemingly squashed the idea of a letdown early in the match, building a 3-0 lead midway through the first half. Iain Holmes scored in the opening minute, and Justin Gonzales gave the Patriots a 2-0 lead with a goal in the fifth minute. Holmes' second goal extended Yorktown's advantage to 3-0 in the 19th minute.
"I'd say after we got that third goal we just kind of settled and thought it would be easier than it turned out to be," Holmes said. "We settled down way more than we should have."
From that point, Robinson slowly chipped away at the lead. Lucas Puranen scored in the 26th minute, cutting Yorktown's lead to 3-1 at halftime. Noah Zorzi scored in the 47th minute and Henry Lunario netted the equalizer in the 72nd minute.
"Last year, we didn't have that great of a year. This year, we've got some kids back and we're looking to do well and kind of make a run as we go along."

--- Yorktown boys' soccer coach David Wood
"The level dropped, big time," Yorktown head coach David Wood said. "… It's tough sometimes, because we've been on a big-time roll of not giving up goals and scoring goals."
Rather than letting Robinson come all the way back to win, Yorktown found a way to salvage the contest with McCreary scoring the game-winner shortly after returning from a yellow card.
Sophomore midfielder Jack McCreary assisted the goal.
"I saw my brother coming across the goal," Joe McCreary said, "and I opened up, made the run, saw the keeper was out a little bit and put it in the net."
Wood agreed the letdown could be a bit of a wake-up call for the Patriots, but said their ability to pull out the victory is a positive.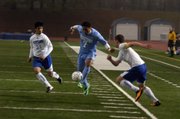 "It also can help [the team] because we came back and won the game," Wood said. "We got the fourth goal on a great goal from Joe. It was a good fight to hold them off there. When it [was] 3-3, then they raised their level [of play]."
Caleb Knight finished with two assists for Yorktown. Will McCreary had one.
Yorktown's 1-0 win over Oakton on April 4 was an early-season confidence booster for the Patriots. Oakton won the Northern Region title, reached the state semifinals and finished with an 18-1-2 record last season. This year, the Cougars are 5-1-1.
"It was amazing," Homes said. "It was probably one of the best experiences of my high school career."
Jack McCreary scored Yorktown's goal against Oakton, with an assist from Michael Monahan.
"It was huge," Wood said about the win over Oakton. "They're coming off a regional championship last year and getting far at states last year. They've got a lot of returners form that team and [head coach] Todd [Spitalny] does a great job with them. We really wanted to show that we can play again with all these teams. Last year, we didn't have that great of a year. This year, we've got some kids back and we're looking to do well and kind of make a run as we go along."
Wood said this is one of the best teams he's had during his eight-year tenure at Yorktown, along with the 2010 team that fell one win shy of reaching the state playoffs.
Monahan leads the team with four goals. Holmes has three goals, and Jack McCreary, Joe McCreary and Gonzales each have two.
Yorktown will host Hayfield at 7 p.m. on Thursday, April 10.