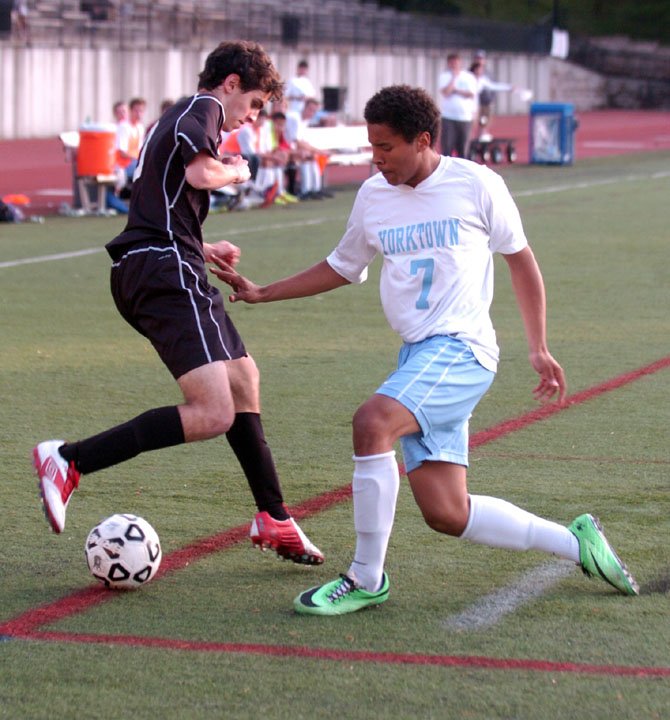 Members of the Yorktown boys' soccer team dog piled in celebration after scoring what they thought was the go-ahead goal late in the second overtime period against Madison in the Conference 6 tournament quarterfinals. Moments later, however, the Patriots had to regroup as the goal had been waved off due to the referee calling a foul.
Despite facing what could have been a difficult emotional swing, Yorktown celebrated for real after the game went to sudden death.
Senior forward Michael Monahan delivered the golden goal with an assist from senior midfielder Joe McCreary and No. 3 Yorktown kept its season alive with a 2-1 victory over No. 6 Madison on May 16 at Greenbrier Park.
The Patriots managed to regroup after finding out their celebration late in the second 5-minute overtime period was for naught.
"It was tough because that was a tough call," Yorktown head coach David Wood said. "He said it was a push there; I didn't really see it. The whistle comes after [the goal and] everybody's screaming, so you can't really hear it. The kids did well coming back and getting themselves sorted for the last minute of that overtime and then getting ready for the next overtime.
"I had them be very direct in the overtime and just get it in the box. Got a free kick in the box, dropped down to Michael and Michael crushes it in the goal. That was great character they showed to come back [and win] the game twice."
The Patriots celebrated near midfield after Monahan's goal.
"Joe McCreary sent me a cross," Monahan said, "and I just got it down and just drilled it."
The victory earned the Patriots a berth in the 6A North region tournament.
Yorktown entered the match with a 10-2-1 record, having held 10 of its opponents scoreless. Madison, on the other hand, was 6-5-2 and had lost two of its final three regular-season matches. The Warhawks managed to hang around, regardless, and tied the score at 1 with Max Dudenhoeffer's goal in the 53rd minute.
Regulation ended in a 1-all tie and, after neither team scored during two 5-minute overtime periods, the game went to sudden-death overtime, where Yorktown found a way to win.
"I thought Madison played very well," Wood said. "Their coach set them up very well and they were ready to play. They were very tough for us to break down."
The victory advanced Yorktown to the semifinals, where the Patriots lost to No. 7 McLean 2-1 on Tuesday.
McCreary scored the game's first goal, giving the Patriots a 1-0 lead in the 14th minute. McCreary, a Yorktown co-captain, said the Patriots will benefit from being tested.
"It definitely grounded us, for sure," he said. "Credit to Madison; they played a great game. They played their hearts out."