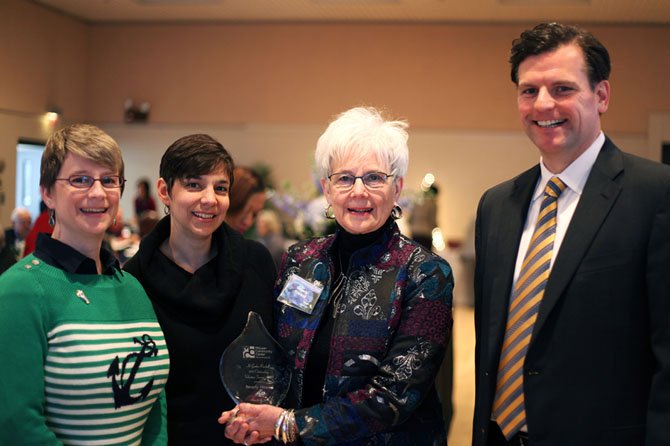 The McLean Community Center's (MCC) 10th Annual Volunteer Appreciation Reception was held on Sunday, March 23, in the Community Hall. The theme was "Paris" and Center volunteers were treated to a catered lunch by Splendid Fare and live music by The Hot Club of D.C.
The 2013 H. Gordon Randall Outstanding Volunteer Service award was presented to Beverly Howard for her volunteer contributions as an usher for The Alden. MCC Special Events Director Sam A. Roberts and MCC Governing Board Chair Chad Quinn presented the award.
Roberts said Howard has been volunteering with the Alden Theatre for more than 18 years. She was nominated by Performing Arts Assistant Jeff Virchow.
Virchow said that Howard has spent an average of 63 hours annually volunteering in the last three years since he has overseen the usher program. This year alone, Howard will have served 81 hours at 27 performances. When she is not volunteering, Howard is working full time at a property management company in McLean. "As a volunteer usher, Bev represents the Alden perfectly," said Virchow. "From the moment she enters the facility, her bright smile never leaves her face as she gives that extra touch of customer service that the theatre has been working hard to create. She's just full of life and it's infectious," said Virchow.
For more information on volunteer opportunities at the Center, call 703-790-0123, TTY: 711, or visit, www.mcleancenter.org.