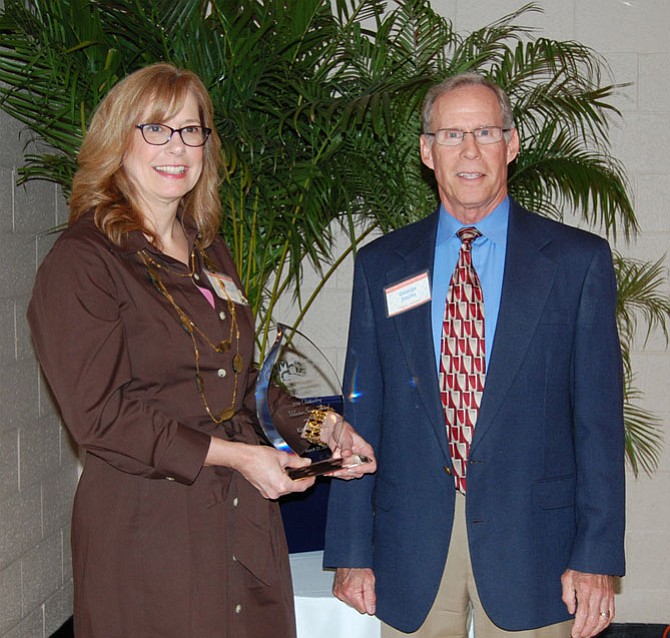 The McLean Community Center's (MCC) Volunteer Appreciation Reception was held on Sunday, March 22, in the Community Hall. The theme was "New Orleans Jazz" and center volunteers were treated to a catered lunch by Splendid Fare and live music by The Wayne Tympanick Trio. The center is located at 1234 Ingleside Avenue.
The 2014 H. Gordon Randall Outstanding Volunteer Service award was presented to Kay Bransford for her contributions to the Center's Lifetime Learning 50+ Program. Bransford became involved with the Center after hearing about it through the McLean Community Village for All Ages (MCVA), a community-based, volunteer-managed work group that works to assist seniors and people with disabilities. Bransford is president of MemoryBanc.
In the fall of 2013, she began working as a volunteer for MCC Lifetime Learning Coordinator Sydney Duberstein. She has helped Duberstein recruit speakers on a variety of subjects that are important to seniors including housing options, organizing the home and defining healthcare wishes. Bransford has also lead three classes herself on such topics as organizing and protecting documents and accounts and assets. In addition to her work with Duberstein, Bransford has volunteered for the Joy of Dance program at the Center and as an usher for The Alden. MCC Executive Director George Sachs presented the award.
For more information on volunteer opportunities at the Center, call 703-790-0123, TTY: 711, or visit, www.mcleancenter.org.