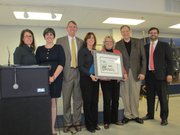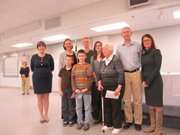 The Vienna Town Council honored community volunteers – individuals, families and businesses – at the 13th annual Volunteer Service Award ceremony on April 8 at the Vienna Volunteer Fire Department. More than 35 volunteers, nominated by neighbors and peers, were recognized with certificates and gratitude for their outstanding contribution to the community.
On behalf of the Vienna Town Council, acting Mayor Carey Sienicki proclaimed Tuesday, April 8, as Volunteer Recognition Day in the Town of Vienna, an opportunity to "celebrate and promote volunteerism" in the community. In her proclamation, Sienicki said, "volunteering of one's time and resources is a fundamental part of the tradition of our country and is essential to its spirit. The people of our community benefit from the deeds of these selfless and dedicated individuals and organizations."
The spirit of former Mayor J. Jane Seeman, who died on Feb. 23, was called on throughout the program as many recalled Seeman's own dedication to volunteer work and her regard for the volunteers who bettered the lives of others. The Town of Vienna presented its first Mayor M. Jane Seeman Award. The award recognizes the late mayor's "enthusiastic support and appreciation for the positive contributions that volunteers make to the Vienna community." The 2014 Mayor M. Jane Seeman Award was presented to the 2013 Vienna Business Association Board of Directors: Jeff Bollettino, Mary Kay Claus, George Creed, James Cudney, Kathy Georgen, Peggy James, Tracy Murphy, DH Scarborough, and Carole Wolfand. VBA organized the town's most prominent community events, the Vienna Halloween Parade, Oktoberfest and First Night Vienna.
Annually, the Town/Business Liaison Committee presents the Carole Wolfand Award which recognizes businesses and business owners for outstanding contributions to the community life and spirit of Vienna.
The 2014 Carole Wolfand Award went to The Artful Gift Shop owner, Peggy James, whose shop is on historic Church Street.
James was praised for her active participation and dedication to several community associations, and her support of many local charitable organizations. She fundraises on behalf of HART (the Homeless Animal Rescue Team), and she was instrumental in the production of Vienna's debut First Night celebration. On the Board of Directors of the Vienna Business Association, James has helped organize large community-wide events including Oktoberfest and the Vienna Halloween Parade, in addition to First Night Vienna.
The Town/Business Liaison Committee also recognized Cameo Coins and Collectibles, Pure Chiropractic, SunTrust Bank, Amphora Restaurant, Staats Development, MowerMedx and the Vienna Business Association.
Honorees of the Vienna Volunteer Recognition Awards included Maureen Alonso, Michael Amouri, Chuck Anderson, Jeff Bates & Family, Celia Blalock, Marge Bradley, Peggy Brumsted, Joanne Burke, Kathy Clark, Taylor Claybrook, Laurie Cole, Marcellyn Daly, Christina Dangler, Laura Fowler, Tammy Funk, Judith Gallimore, Janet Gelb, Girl Scout Brownie Troop 5972, Dennis Harrington, Olivia Hartt, Daill Day Hyde, Laine Hyde, Sharon Kallio, Tom Kyllo, Estelle McNeil, Anne Murphy, Douglas Noble, Don Park (Connection newspapers), Julianne Phillipp, Mike Polychrones, Jean Reavey, John Runyon, Audrey Samolis, Ross Shearer, and Ed Tang.
Video highlights of the volunteer ceremony will be available on the Town's website at www.viennava.gov and Facebook at www.facebook.com/TownofViennaVA.