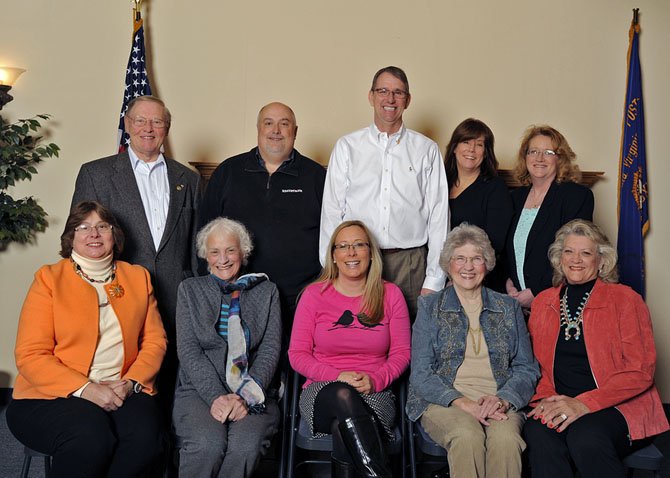 Vienna Mayor M. Jane Seeman Dies
Vienna Mayor M. (Madena) Jane Seeman, diagnosed with Stage 4 lung cancer in spring of 2013, died Sunday, Feb. 23, surrounded by family. Her passing was mourned by residents, businesspeople, young adults taught by her and all those whose lives were touched by her presence.
Seeman continued as mayor through chemotherapy treatments since her diagnosis in June. Four days before her death, Seeman attended a Vienna Rotary Club meeting.
Visiting hours have been set for Thursday, Feb. 27, from 1 to 4 p.m. and 6 to 8 p.m. at Money and King Funeral Home, 171 Maple Avenue W, Vienna. A funeral will be held on Friday, Feb. 28, at 2 p.m. at Vienna Presbyterian Church, 124 Park Street NE, to be immediately followed by a burial at Flint Hill Cemetery and reception at Vienna Presbyterian. In lieu of flowers, the family has requested donations be made in Mayor Seeman's memory to the Rotary Club of Vienna, Inc. or the American Cancer Society.
In a January interview with the Vienna Connection, Seeman expressed her plans for retirement and reflected on her tenure as mayor, preschool teacher, gardener and library volunteer.
A Vienna resident since 1968, Seeman was active in the Ayr Hill Garden Club and Patrick Henry Library as a volunteer. She taught preschool in Vienna.
It was 1996 when M. Jane Seeman stepped in to fill her husband's unexpired term on the Council after his death. She ran and won seats on the Council in 1997 and 1999. When then-mayor Charles Robinson approached Seeman about running for mayor in 2000, she had some trepidation.
"I was thinking I wasn't capable at all," Seeman said. "I felt as if I swallowed a rock.
"If you really believe in something, you have to step forward and do it. I believe in Vienna and that's what this was all about."
On Jan. 6, Mayor Seeman publicly announced that she was retiring from politics when her term expires in June 2014. In her final Connection interview, Seeman said she is leaving as mayor with no regrets. Perhaps, Seeman's words take on deeper meaning now.
"I have faith in the people of Vienna. They'll make sure the town is run the right way.
"It's time."
At Tuesday night's Town Council meeting, Seeman's empty chair was draped with a white ribbon and a yellow rose. "Our beloved colleague passed away," said Councilwoman Carey Sienicki. "We are privileged to have known such a fine person who will live forever in the heart of Vienna."
Reflections on the life of M. (Madena) Jane Seeman
Ron Balderson, President, Rotary Club of Vienna
"This is such a great loss to the members of our club and those who loved and admired her.
The Rotary Club of Vienna was privileged to have Mayor Jane as an honorary member.
As with everything she did, she served with a passion; whether it was arranging the bell ringing at Christmas time to raise money for the Salvation Army or volunteering to help with security on the bike path for Viva! Vienna. She was serving the club and thus community charities Rotary supports with the funds raised.
Rotarians have a motto, which is, 'Service Above Self' and Mayor Jane exemplified our motto. She will leave a void in our club, our town and in our hearts."
James Cudney, PostNet owner, Vienna Rotary
"To me, Mayor Jane personified Vienna. Big town smarts, small town charm.

Not only was she intimately involved in helping to shape the image and lifestyle of our town as a strong political leader, she was unselfish and truly gave back to the community.
My friend Jane was actively involved in community, business, and service groups, yet she was always humble and caring. She helped spearhead major events like Viva! Vienna! and the Halloween Parade, yet had time to volunteer thousands of hours to the library.
She has left an indelible mark on our community. Her warm and friendly presence will be felt forever."
Bob McCahill, President, Northeast Vienna Citizens Association
"Jane was an extraordinary person and an inspiration. Her selfless interest in serving others made Vienna a better place to live. She will be sorely missed and long remembered by those who had the good fortune to know her.
On a personal note, in the 1980s Jane was 'Miss Jane' to our children, who took tumbling/exercise classes led by her at the Community Center. She was always so interested in them when we'd visit the library for books, too."
State Sen. Chap Petersen (D-34)
"Jane was such a classy lady and a great leader. I identify her so strongly with the Town of Vienna. She knew absolutely everybody and had a kind word for all. Her graceful and ready smile is what I will remember best."
Sally Recinos, President, AyrHill Garden Club
"One of my favorite recollections of Jane was working with her and Maud Robinson at The Bike Trail Garden, which Ayr Hill Garden Club has designed and maintained for 32 years. Jane was dressed in her club t- shirt and had newspaper plastic bags covering her arms as we pulled poison ivy growing among the bushes. It perfectly captured the essence of Vienna as small, involved and dedicated small town.
The mayor and a town council member weeding and digging is not a sight one would see in many towns."
Bob and Tracey Zillian, Vienna residents
"Here is my favorite Jane story.
When our daughter was in elementary school, we took a group of her friends to Amphora for dinner before her sleepover. Jane was there having dinner with a friend. When Jane found out that we were celebrating Ashley's birthday, she stopped by our table to wish Ashley a happy birthday. Ashley's friends were so impressed that she knew the mayor and we were touched, as always, by Jane's kindness. It has been a privilege to be her neighbor and to have her as the mayor of our town."
U.S. Rep. Gerry Connolly (D-11)
"Jane was a partner in local government and a gracious presence in Northern Virginia. I counted Jane as a friend. Her passing creates a void in the Town of Vienna that will be difficult to fill. Her presence will be missed."
Cutler Dawson, President and CEO of Navy Federal Credit Union
"The passing of Mayor Seeman comes as a great loss to the town of Vienna and to Navy Federal Credit Union. She was a joy to work with--always in a cooperative spirit--and was, most of all, a friend to us at the credit union. She will be greatly missed."

Melissa Tochterman, former Asst. Principal, Vienna Elementary School
"Heartbroken. She was always lovely and welcoming during my time in Vienna. She will be missed but not forgotten. Her influence and modeling runs deep. A toast to Mayor Seeman."
Sol Glasner, Chairman of the Tysons Partnership Board of Directors
"She was a person of great integrity and humanity, with a deep commitment to the common good. …We will miss her tremendous energy, her wry humor, and her wise counsel.
"Mayor Seeman's commentary was always insightful, constructive and optimistic. Our community has lost a great public servant."