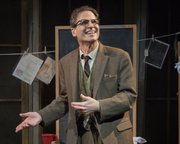 Storytelling at its best — storytelling in a small intimate space where the audience is actively engaged — this seems to be a common theme at MetroStage. In our two plays being performed on our stage In Rep this spring the audience cannot escape. In "The Thousandth Night," they are being addressed by Guy de Bonheur as he is stranded temporarily but destined for a concentration camp. Will the stories from the Arabian Nights (think Scheherazade's 1,001 stories told to the Sultan to save her life) convince the gendarmes in the train station to let this simple Parisian actor escape? When he asks them (you) directly for help, will anyone speak up? Is the lesson here that there are times in our lives when we may need to speak up, but may not for fear of some repercussion?
In "Underneath the Lintel," The Librarian has rented a hall to give a lecture. He has brought tagged "evidences" to tell his story that begins with an overdue book and ultimately continues on a worldwide journey. Through a series of clues he hopes that you will understand his drive and determination and maybe have a little better understanding of life's meaning or the search for meaning in life's journey.
Sounds like a heavy evening at the theatre right? Actually they both have tremendous entertainment value — but underlying are stories of a very serious human dilemma. Choices made, betrayals, and ultimately the search for meaning as we journey through life — confronting both the unpredictable, unavoidable, unfathomable yet trying only to retain our humanity and integrity in the journey. And, dancing when the opportunity arises.
This is MetroStage's first Rep series. Both can be seen on the same day (with a dinner break in between — we promise there will be lots to talk about at dinner) or come on a Tuesday or Wednesday for a brief talk back with the actor and occasional invited speakers. Theatre is a thinking sport but we offer entertainment as well. How often can you experience both simultaneously?
We have a crazy schedule so please check out our website (www.metrostage.org) for which show is in performance which day (we are in a perpetual state of confusion) and experience fascinating human stories in a communal setting and leave the theatre knowing you will still be talking about the experience well into the future.