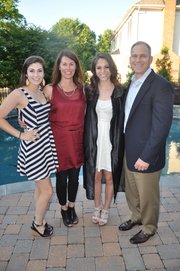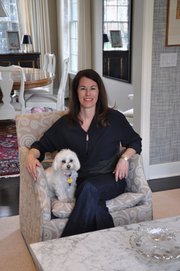 "I believe change happens all the time, and I'm comfortable with it. Change is a good thing. We need to embrace it and keep moving forward."
— Laurie DiRocco, Mayor, Town of Vienna
In January, when Vienna Town Council member Laurie DiRocco announced she would run for mayor, she had no idea that she would be the only candidate on the ballot, or that she would hold the title a month before the actual May 6 election.
But with the Feb. 23 death of Mayor Jane Seeman, who announced her retirement last year after being diagnosed with cancer, the six-member town council appointed DiRocco, the only registered candidate for the position, to serve out Mayor Seeman's uncompleted term.
"It's been a very bittersweet time for me," said DiRocco, 47, during an interview in her home, four days after being sworn-in as mayor on April 8. "I thought of Mayor Seeman as both a role model and a mentor. She gave so much to the community… I admired her service to the community and the fact that she really was a humble person."
In fact, it was Seeman who inspired DiRocco to run for office when Seeman was door-knocking during her 2000 campaign.
"I couldn't believe a candidate would actually come to my door to deliver her brochure about getting engaged in the community," DiRocco said. "I thought it was great! She inspired me to get involved."
DiRocco, a self-described "people person," has a strong history of community involvement. After Seeman's visit, she volunteered for the Town's Transportation Safety Commission. She went on to serve as chair of the Town's Planning Commission, and then successfully ran for office, winning a seat on the Vienna Town Council in 2009.
Originally from East Windsor, N.J., DiRocco and her husband, Rob, have lived in Vienna nearly 20 years. They have two daughters – Sophia, a junior at James Madison High School and Allie, a freshman at High Point University.
Faith plays an important role in DiRocco's family life. They are active members of Vienna Presbyterian Church, the town's oldest church, a place where Laurie DiRocco has made many community connections.
"Laurie is loyal to the core," said Nina Graves, who met DiRocco 18 years ago when their oldest children were in a pre-school class together at Vienna Baptist Children's Center. "She cares deeply about the future of Vienna. … She will be a wonderful mayor."
A FORMER ADJUNCT PROFESSOR of finance at George Mason University, DiRocco graduated from Virginia Tech with a degree in finance, and holds an M.B.A. from George Washington University.
Like many working mothers, DiRocco's career path closely tracked her two daughter's education paths. She has served as treasurer of the Marshall Road Elementary School PTA, President of the Camelot Elementary School Hearing Association and is currently a member of James Madison High School PTSA. She is also in the midst of planning Senior Night for the Madison Girls Soccer Team, a team her daughter plays on.
As mayor, DiRocco said she will continue Seeman's legacy of "thoughtful growth," while maintaining Vienna's quaint small-town charm.
"I love this community. We have a lot to be proud of," she said, noting that in addition to the highly ranked public schools, the town's assets include a vibrant "main street" with many small businesses, Metro stations on the southwestern and northeastern corners of the Town, a portion of the W&OD trail that goes through the center of the town and Vienna's Wolf Trap National Park for the Performing Arts.
With a population of 16,000 and growing, Vienna ranked third on CNN/Money and Money magazine's list of the 100 best places to live in the United States in 2013.
But DiRocco is not one to let the town rest on its laurels. She sees significant change on the horizon.
"I believe change happens all the time, and I'm comfortable with it. Change is a good thing. We need to embrace it and keep moving forward," DiRocco said.
DiRocco – who enjoys biking along the WO&D trail and taking long walks along Church Street – said she wants to enhance Vienna's reputation as a great place to live, work and play. The fact that Vienna created both a Bicycle Advisory Commission and a Pedestrian Advisory Commission says something about the town's priorities, DiRocco noted.
"I would like to see the town continue to expand its transportation network with new sidewalks, bicycle routes and bus services," she said.
She is also an enthusiastic supporter of the town's long-awaited Maple Avenue Vision plan, which uses a new commercial zoning code to create the "Maple Avenue Corridor" (MAC) district, a more pedestrian-friendly area enhanced with mixed-use developments.
"We are changing demographically," she said. "We have a population of young families as well as older residents who want to remain here after they retire," she said.
She points to the fact that Vienna had a record number of single lot redevelopments this past year, which creates new single-family housing stock and attracts young and growing families to the community.
"In 2013, the town had 110 single-family lots redeveloped, the most ever in the town's recent history," she said.
In addition to a demographic shift, DiRocco is acutely aware of the impact Tysons redevelopment will have on Vienna's 4.4 square miles of space.
TWENTY YEARS AGO, Vienna claimed Tysons as its nearby residential shopping district. Today, Tysons is the rapidly growing behemoth of Fairfax County – a distinct urban center with massive multi-million dollar redevelopment projects on the horizon.
Mayor DiRocco is ready for it.
She supports the renovation and expansion of the Vienna Community Center, as well as investments in the town's water, sewer and transportation infrastructure.
"There's a lot to love about Vienna," she said. "We have an amazing network of volunteers, community groups and small businesses that give their time and talent for the betterment of the town."
Top 10 Things To Do in Vienna
Here is Laurie DiRocco's list of the top 10 things to do in Vienna:
Bring a lawn chair or blanket and listen to a free concert on the Town Green.

Run in one of the many 5Ks that the local schools sponsor. (Or walk or push a stroller.)

Sample as many dishes as you can from the local restaurants at Taste of Vienna.

See the large model railroad layout at the Vienna Train Depot. (The Northern Virginia Model Railroaders open their doors twelve times a year for viewing.)

Roast marshmallows and see Santa at the Freeman House during the Church Street Stroll.

Drink a cold beer at Oktoberfest (or two)!

Go on every single ride at Viva Vienna, even the Round-up that makes you sick to your stomach.

On 4th of July, lay a blanket out at Yeonas Park and enjoy the beautiful fireworks.

Watch, or better yet, walk in the Halloween Parade – it is special to walk down Maple Avenue with no cars!

Eat a chilidog at the Vienna Inn.