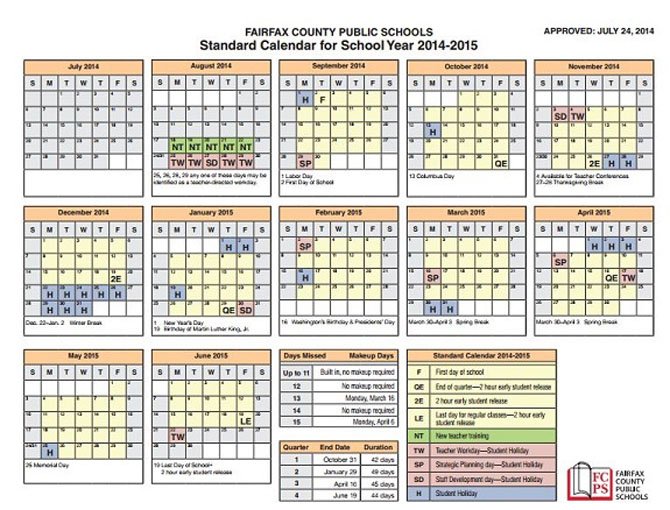 The Fairfax County School Board voted at its last meeting to approve funding for full day Mondays for elementary-school students.
The board voted back in June to approve ending half-day Mondays, but voted to fund the move, which will cost $7,639,300 at its July 24 meeting.
The cost includes resources to increase teacher planning time, and for additional teacher positions that will allow teachers to have more planning time. This money is from the $38,163,473 left over from the fiscal year 2014 budget.
Full day Mondays will increase instructional time for elementary school students, as well as provide 20 minutes of recess each day.
An online survey determined that 80 percent of parents were in favor of full day Mondays, and more than 80 percent of those who supported the change wanted to do so in September 2014.
Half day Mondays have been in effect in Fairfax County since the 1970s. The School Board previously worked with the Board of Supervisors for funding the full-day Mondays, but instead used money left over from last fiscal year.
"After surveying both parents and teachers, we saw that parents overwhelmingly supported this change — and as soon as possible," said Ilryong Moon, at large member of the School Board. "In addition, elementary teachers have consistently cited in our working conditions survey that they need guaranteed, self-directed time for planning."
Fairfax County previously operated under the 180-day school year calendar, which allowed for half-day Mondays to occur. The school system will now change to 990 hours per year, which they would not have been met if half day Mondays were still in effect.
"Certainly our parents, no doubt, support it, whole-heartedly. It was in response to a continued year-after-year concern expressed by our teachers at the elementary level around not having enough planning time," Karen Garza, superintendent of Fairfax County Public Schools, said at the July 24 school board meeting.
Under the 990 hours per year system, if less than 13 inclement weather days are used, schools days do not need to be made up at the end of the year. This year, school went until June 25 because of multiple make-up days needed because of bad weather.
Full day Mondays will begin starting this school year, which begins Sept. 2.
"No one was happy about the fact that we had to go three days of school past the advertised last school day," Garza said at the meeting.