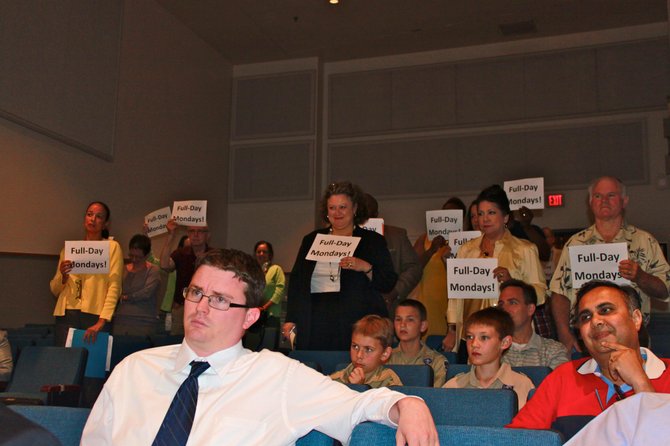 Full-day Mondays for all.
After 40 years, Fairfax County Public Schools will give all elementary students "full Mondays" for more learning time — and more recess. During a School Board meeting Thursday, June 26, Superintendent Karen Garza said Mondays were cut in half for elementary students since 1972.
"While not everyone tonight will embrace the change, we will engage the stakeholders," she told the board.
Mondays were originally cut to give elementary teachers more planning time. Garza said she promised teachers would still be given enough planning time.
"We will be ready in September," Garza said.
When Monday was chopped in half, recess time was also cut. Students had 10 minute recess breaks to make up for lost time in the classroom.
Because the week will be more uniform, she said, it will also be easier on parents.
Sully district board member Kathy Smith was the only person to vote against the action. Lee district board member Tammy Derenak Kaufax was absent.
"There's a lot of pressure on me to vote yes," she said. "I need to be a voice for the teachers who are concerned."
She said Kaufax would have voted against the action for the same reasons. Smith said she would feel more comfortable if the board voted to have full-day Mondays begin in fall 2015 to give teachers more time to adjust to the change.
Others felt like elementary students this year deserve to benefit from the extra time full-day Mondays would give back to them.
"We can't continue to educate children in 2014 and beyond as we did in the 1970s," said Springfield district board member Elizabeth Schultz.
Schultz was in the second grade when her family moved — resulting in her moving to a Fairfax County elementary school. She said she remembers not understanding why Mondays were cut in half. During the past two years, she asked administrators how the elementary schools were meeting accreditation standards with the hours missed and was dissatisfied with their answers.
She said 94 percent of parents who answered a recent survey about the topic said "do it and do it now."
Dranesville district board member Jane Strauss said some members of the county Board of Supervisors — including Dranesville supervisor John Foust — promised to pour extra money into the school system to support the move.
"Parents have been hoping for the change for a long time," said Hunter Mill district board member Pat Hynes.
"We're asking for a leap of faith from the teachers, which is absolutely true," she said. "With every conversation, we get closer and closer to their comfort level."