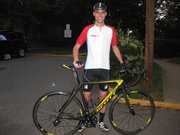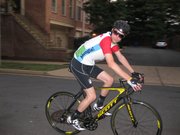 There was nothing Arlington resident Matthew Guckenburg could have done to cure the cancer that killed his Uncle Terry five years ago. Though Guckenberg could not stop the deadly disease in its tracks, he will be laying down new tracks to combat the silent killer that affects so many worldwide. As part of the Capital Region's first ever Ride to Conquer Cancer, Guckenberg will be cycling 150 miles throughout the D.C. metropolitan area's countryside Sept. 13-14.
The Ride to Conquer Cancer will benefit the Johns Hopkins Kimmel Cancer Center, Sibley Memorial and Suburban Hospitals. Each participant is required to raise a minimum $2,500 so all proceeds will support the center's cancer research.
"This is the first time they have done the Ride to Conquer Cancer benefitting Johns Hopkins Kimmel Cancer Center," Guckenberg said, who heard about it on the radio. The event immediately piqued his interest. He added that he has become more serious about road cycling in the past couple years.
Michael Hibler, development officer with the Johns Hopkins Kimmel Cancer Center, said he has high hopes for the area's first Ride to Conquer Cancer.
"Our goal is to make the Johns Hopkins Ride to Conquer Cancer the signature philanthropic cycling event in the National Capital Region," Hibler said. "Every dollar raised is accelerating our ability to bring the most innovative cancer care for all patients and families to this region."
While Guckenberg has done different events honoring his late uncle in the last five years, he wanted to do something he considered bigger and more personal for his uncle. He was so moved by news of the event that he rallied his dad and a close friend to join him on his journey.
"My uncle died of cancer five years ago," Guckenberg said. "I had done some cancer benefits in college, but I wanted to do something a little more substantial and something challenging for me. So when I heard about the Ride to Conquer Cancer on the radio, I called my dad and he jumped on board right away. Then, I got another one of my friends in on it. That's how I started and what motivated me to really do it."
He said the challenge of raising $2,500 didn't cause him to hesitate to sign up, as he is determined to do everything he can to both honor his uncle and save future cancer patients. Guckenberg aims to raise twice the required amount to sign up for the event.
"While the fundraising goal is $2,500, I would like to raise as much as possible. If possible, I would like to raise $5,000."
While the exact route of the 150-mile out and back ride has yet to be determined or released, Guckenberg is certain of a few things. He knows he will not be on his quest alone. He has his teammates and even the support and sponsorship of a local business.
"We call it a team, but it's just the three of us," Guckenberg said. "We are being semi-sponsored by the Italian Store. I used to work there when I was in graduate school. They made a little donation to us and we have jerseys with the Italian Store's logo on them. They are big into wanting to support us and have offered a lot of moral support."
Jerseys like the ones Guckenberg's team will wear for the event are on sale at the Italian Store, in Arlington off Lee Highway.
Guckenberg and his support group are a microcosm of people who are affected by cancer in the Washington D.C. metropolitan area, which is one reason why the trails and paths of the Capital Area will be home to the ride. Even though Guckenberg's uncle was treated in the family's hometown of Wisconsin, his story and his life has followed his nephew to the Nation's Capital.
"We surveyed the country to identify the right event to bring to the area," Hibler said. "The Ride to Conquer Cancer is a global model making a difference for cancer patients and their families, being the largest cycling fundraiser in Canada and the largest fundraising series across Australia and New Zealand. These funds are being used to support scientists and the technologies they need to move cancer research forward. From powerful genomic sequencing to designing informative clinical trials, these investments are accelerating discoveries aimed at helping cancer patients and their families."
The importance of the Ride to Conquer Cancer is not lost on Guckenberg, who recognizes research is absolutely integral in ridding the world of cancer entirely.
"The thing with my uncle is, by the time they caught it, it was too late," Guckenberg said. "The research to help early warnings and to be able to stop this while you can is big for me. He might still be alive if they caught it earlier. Anything I can do to help with cancer research is big for me."
Guckenberg said has no plans to cut himself any slack during the ride, which he will treat like a true race. He said enduring 150 miles of potential physical discomfort on two wheels is the least he can do.
"I am trying to do what I can from here to honor my uncle's memory and everyone else who has be affected by cancer," Guckenberg said. "I am going to do everything I can to do this at a non-leisurely pace. I am treating this as a race. I am treating it as something very serious. I look at it like, the people going through cancer can't take breaks so I don't take breaks. It is my way of at least recognizing their struggles and trying to do something."
To register, donate or for more event information, visit www.ridetovictory.org.