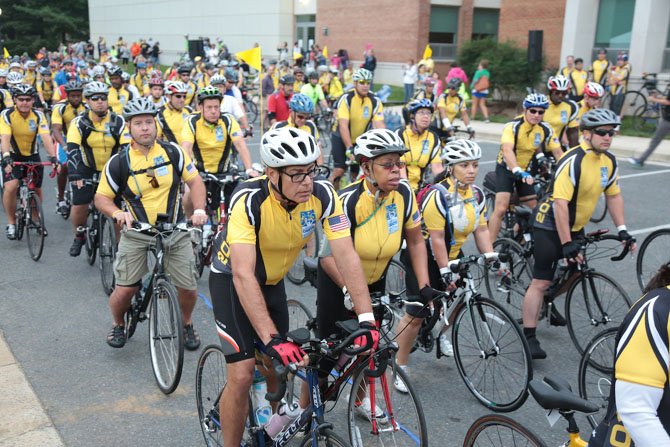 In July of 2013, Seth Edlavitch of Potomac says he received the shock of his life. After experiencing headaches for several months, he visited his doctor and after a series of tests and finally brain surgery, doctors discovered that Edlavitch had a non-Hodgkin's, blood-based lymphoma form of brain cancer.
"Six weeks of not being able to drive and not lifting my kids," said Edlavitch. "Once I healed from my surgery, I immediately went to the Johns Hopkins Sidney Kimmel Cancer Center in August for intense, in-patient, chemo treatments every other week through November 2013."
Last weekend, Edlavitch, who completed his 17th round of in-patient chemotherapy in July, decided to participate in The Ride to Conquer Cancer, "to support Johns Hopkins and the providers who saved my life." The event, which organizers plan to make an annual occurrence, drew more than 1,000 participants and raised $2.6 million for Johns Hopkins Kimmel Cancer Center, Sibley Memorial and Suburban Hospitals.
"My goal in tackling this ride was to continue my remission with a positive and strong outlook on life, support the Johns Hopkins Kimel Cancer Center and keep on fighting,"

— Seth Edlavitch, Potomac
"In this first year, we are prioritizing the use of funds for clinical and translational cancer research at Sibley Hospital, Suburban Hospital, and in East Baltimore to ensure that all with cancer who seek care at these sites have access to the most innovative new cancer treatments," said Willliam Nelson, M.D., Ph.D., director of the Johns Hopkins Kimmel Cancer Center.
Event organizers say that the community of riders, along with donors, sponsors and hundreds of volunteers helped make the two-day, 150-mile ride a success.
A personal experience also influenced Herndon, Va. resident Andrew Blysak's decision to register for the ride. "While my wife was fighting breast cancer this past year, the strength she showed was an inspiration to me, our family and friends," he said
Participants pedaled their way through the Capitol Region's picturesque countryside, greeted with fresh food, beverages and cheering crowds at local communities throughout the route. At an overnight camp at the mid-way point, riders enjoyed tents, hot meals, showers, live entertainment, massages and other festive activities.
Edlavitch says that before his personal experience, he had never considered participating in an event of this sort. "My goal in tackling this ride was to continue my remission with a positive and strong outlook on life, support the Johns Hopkins Kimmel Cancer Center and keep on fighting," he said. "I could not have made it this far without the support and love of my friends and family, especially my wife Melissa.
"Without the knowledge of my oncology team and the nurses at Hopkins, I would not be doing as well as I am doing today. Although I'm currently in remission, I still have to go for outpatient chemo treatment every two months," he said. "Remission means there is no evidence of visible disease. But, it does not mean that I have been cured, so the fight goes on."
Ride organizers released the dates of Sept. 12-13 for the 2015 Ride, and said registration is already open. For more information visit www.ridetovictory.org.