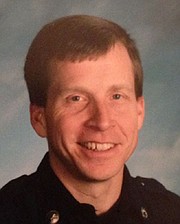 A Fairfax County firefighter for 28 years, Jimmy Breslin died of cancer last year at age 55, but he's never far from the thoughts of his friends and family. And in tribute to him, they raise money for and participate in The Ride to Conquer Cancer.
This bicycling event doesn't happen until September, but the eight members of Team Jim Breslin — captained by his brother Tim — are already training and raising funds.
"It means a lot because I'm doing something in honor and memory of my brother," said Tim Breslin. "And the money raised truly benefits people in their treatments and in the prevention of cancer."
Both brothers have ties to the local area. They were born and raised in Fairfax and graduated from Woodson High. And Jimmy Breslin served at both Centreville Fire Stations 17 and 38.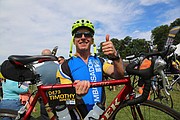 The Ride is Sept.19-20; proceeds go to the Johns Hopkins Kimmel Cancer Center, plus Sibley Memorial, Suburban and Howard County General hospitals. It's not a race, so cyclists of all abilities may participate.
To donate or register, go to www.ridetovictory.org or call 855.822.RIDE. Or contribute directly to Team Jim Breslin at http://www.ridetovictory.org/site/TR/Events/2015WashingtonDC?team_id=5822&pg=team&fr_id=1091.
Jimmy Breslin and his wife Janet had three children and three grandchildren. "He was a real, family man," said Tim Breslin. "His family was his number-one priority, so it was incredibly tough when he died."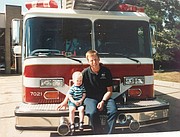 Yet Jimmy Breslin definitely left his mark on the world. After retiring as a firefighter, he became a special-needs bus driver and route manager for Prince William County Public Schools. "He asked for special-needs children; that was his second calling in life," said Breslin. "He loved them like his own kids and, in his house, he'd show you stuff they'd made for him."
But in 2012, Jimmy Breslin was diagnosed with esophageal cancer and battled it as best he could. "Then in January 2014, one of our sisters, Maureen Romano, heard about the Ride and told us about it," said Tim Breslin. It's 150 miles — 75 miles/day over two days — in Maryland and Washington, D.C., and each rider has to raise a minimum of $2,500.
"I'd never done anything like that before," said Breslin. "But she and I wanted to do it to support our brother because he was in the fight of his life." Two months later, on March 27, 2014, Jimmy Breslin lost his battle. "We were just running individually," said Tim Breslin. "But when Jimmy died, other friends and family members asked if they could join, and soon we became a team. And altogether, we raised $38,153."
Now they're preparing for the second annual Ride to Conquer Cancer. Besides Tim Breslin, a 28-year police officer in Chesapeake, Va., the other members of Team Jim Breslin are: Brent Schnupp, a firefighter/paramedic with Station 38; Patrick Breslin, one of Jimmy's sons; Michelle Breslin, married to Jimmy's son Joey, also a Fairfax County firefighter; Jason Smith, married to Jimmy's daughter Jennifer; Fairfax County firefighter/paramedic Kristin Gaulard and her husband Jeff; and Mike Ashley, son of retired county firefighter Dave Ashley, who worked with Jimmy.
Last year, I raised $12,489; so this year, I want to raise $1 more," said Tim Breslin. "So far, I'm at $2,495, so I've got some work to do." Basically, he solicits donations from family, friends and associates. And on his Facebook page, he posts photos of his weekend bike rides to remind people of the upcoming event and let the contributors see how he's getting ready.
"I try to ride three or four times a week and work out in the gym on the treadmill and elliptical," he said. "And I've come to enjoy the mental and physical aspects of riding and exercising." For Tim Breslin, the toughest parts of the Ride are the hills, because there aren't any hills where he lives. It was also difficult for him to ask people for money, but he knew the funds would benefit people like his late brother.
The best part was arriving at the finish line of last year's event. "We all stopped about a minute away and called Jimmy's wife to tell her we were about there," said Tim Breslin. "As we approached and were announced, there were so many friends and family members cheering us on — and all of them were wearing their 'Team Jim Breslin' T-shirts."
"It was overwhelming to see them there, knowing they'd been waiting for us for hours," he continued. "And it felt good to be part of something so big and important that's really going to help people. Some cancer survivors ride, too, with big orange flags on their bikes, and seeing them is also inspirational."
Describing his brother as kind, generous, loving and witty, Tim Breslin said he always had something funny to say. "People enjoyed working with him and knew they could count on him," said Tim Breslin. "Jimmy made others feel special; he asked about them and showed an interest in them, so they were drawn to him. In his jobs with the Fire Department and school system, he liked serving others and valued the bonds he formed with his friends and co-workers."
So, said Tim Breslin, it meant a great deal to his brother that people were donating money to cancer research because of him. And that's why doing the Ride in his name is "really special," said Tim Breslin. "It keeps him alive for us, and he continues to help people, even though he's no longer with us."