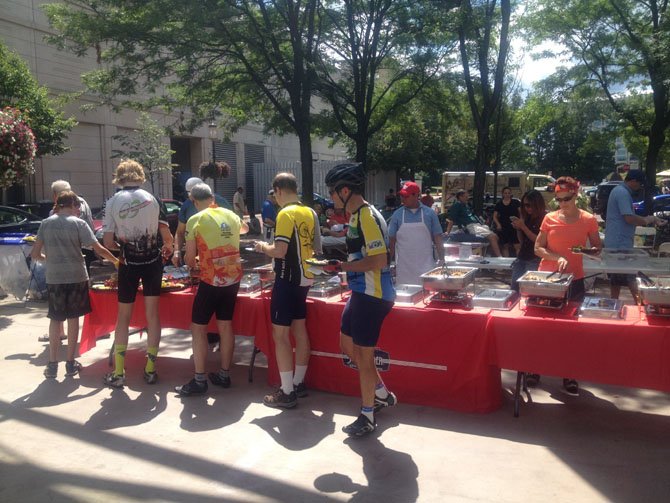 On Aug. 24, Reston Bicycle Club held its 32nd annual century bike tour. The event began and ended at Reston Town Center. "We had approximately 1,165 riders," said Ed Robichaud, a resident of Reston and member of the RBC bike club. The Reston Bicycle Club (RBC) was formed in 1982 to promote cycling in the Reston and surrounding areas. RBC is a volunteer, nonprofit club, with over 700 members.
RBC organizes weekly bicycle rides and social events for all levels and abilities. The RBC Century for 2014 used a route similar to last year, but the exact route depended upon final coordination with Loundon County. The Century route of 2014 consisted of one large loop from Hamilton to Round Hill, Hillsboro, Lovettsville, keeping the Taylorstown and Stumptown hills, before returning to Leesburg and Reston Town Center. The Metric route was merged with the century route at the new Old Mill rest stop before returning to Leesburg and Reston Town Center. The Half-Metric route was a different Ashburn route last year. Minnie Scrafford, a member of RBC since 2000, was volunteering at the Reston pavilion. "Everyone seems to really enjoy it," said Scrafford. "We had a great day with wonderful weather." Approximately 80 persons offered to volunteer during the event.
"I thought it was a great ride," said Julia Vollmers, a resident of Arlington. "Everybody has been really friendly… I appreciate that at the Ashburn stop sunblock lotion was available." The event was not a race but instead a bike ride event. Bike service stops were set up at locations including Loudoun Mill, Ashburn, and Lovettsville. The Reston Bicycle Club hosted a post-ride party under the Reston Town Center Pavilion from 12:30 to 5 p.m. (with food service) for no additional cost for all participating cyclists.
"This was lots of fun and a great way to pass the summer morning," said Ted Andrews, a resident of Chevy Chase, Md. Proceeds benefit various local support and nonprofit organizations. Participants in the bike ride received a t-shirt with a design by Gerry Donofrio. "It is an honor to have my image on the back the t-shirts," said Donofrio, a resident of Sterling. The bike ride had three forms of bike routes, including a Century route which was 104 miles long, a Metric route which was 67 miles long, and the Half-Metric which was 36 miles long. The Century ride was most popular with 617 persons registered to participate in, followed by the Metric route which had 389 persons registered in it.
"It was a wonderful, beautiful weather and well supported," said bicyclist Terri Hock who participated in the half-metric bike ride. "The event was well done. I've done this event six or seven times. They hold this event at a good time of the year because people are returning back from their vacations." Andrew Roberts, a bike mechanic at the Bike Lane bicycle shop in Reston Town Center helped make sure the bikes were in working order before the event began. "It is a great community event," said Roberts, who resides in Reston. "People are always delighted when their bikes are fixed and ready to ride." For more information about the Reston Bike Club, visit restonbikeclub.org.