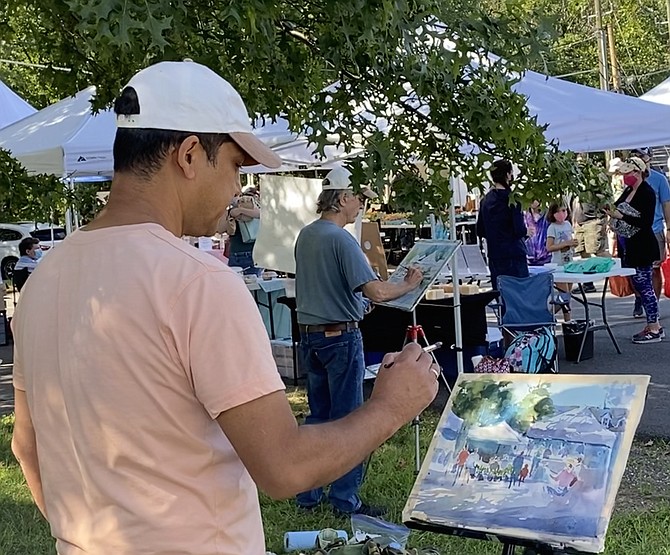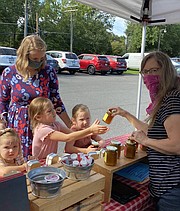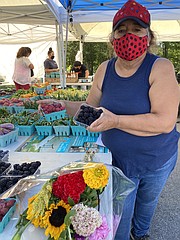 The Great Falls Community Farmers Market lured locals to the Village Center at 778 Walker Road, Great Falls, at the start of the Labor Day weekend. Open Saturday from 9 a.m. to 1 p.m., the outdoor summer market proved "a place for community spirit" as heralded on its website, Great Falls Farmers Market.
The vision-driven market fulfills residents' wishes expressed in the Great Falls 2020 Vision Survey to have a local farmers market to build a vibrant semi-rural center. Monica Kearns of Great Falls brought her three young daughters, Payton, 2, Kenna, 4, and Quinn, 6. "This is our second time coming. It's a beautiful fun outing for the family," she said. Kearns said the music was a draw, as well as the two artists painting the scene. Asked what she liked best, Quinn said, "The people doing the art."
As a producer-only market, it is farm-to-table. Only vendors who grow, cultivate, produce or make their products may sell there. Vendor Andrea Matich of Berryville is one of those vendors. She and family-members operate Liberty Hill Farm, located in the northern Shenandoah Valley. According to Matich, the farm provides pasture-raised meats, some prepared foods, chicken and turkey pot pies made with organic ingredients and signature soups, and other items such as infused honey and hand-dyed yarn spun from the fleece of their sheep. "We love coming to this market. It's small and has large community support," said Matich.
The market exists to build a sense of community. It is one of the few markets in Fairfax County that is not county-sponsored, and everyone is welcome. According to the Market website, music expresses the festive joy at bringing farmers, bakers, chefs, artisans and craftspeople together to nourish and enrich the community. On Sept. 5, the singer-songwriter duo, Luna, Kathleen Huber of Reston on ukulele and bass and Valeria Stewart of Arlington on guitar, performed, joined by singer-songwriter Jillian Matundan of Herndon.
Artists Robert Gilbert of Great Falls and Rajendra KC of Falls Church stood in front of their easels, creating watercolor paintings of the Saturday market scene. Gilbert said, "Are you looking for something to do on the weekend with no crowds, easy parking, loads of edibles, lovely live music and interesting people? The Farmers Market in Great Falls is the answer to all of these and more."
Vendors
Diaz Berries & Veggies (weekly)
Great Falls Historical Society (weekly)
High View Farms
Kai + Ros Handbags
Liberty Hill Farm (weekly)
World Eats (bi-weekly)
Sugar Up Sugar (weekly)
Our Mom Eugenia (weekly)
Tyme Foods, Extra Virgin Olive Oil, Zaatar (weekly)
Sen Catering
Cleopatra Gemstones (bi-weekly)