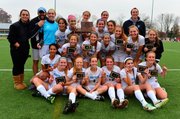 School: Walt Whitman High School.
Mascot: Vikings.
School Colors: Black, white and Columbia blue.
Athletic Director: Andy Wetzel, 301-320-6595.
Football Coach: Jim Kuhn (eighth year).
The Vikings won their final four games and finished 7-3 in 2013, but fell short of a playoff berth.
Boys' Soccer Coach: Dave Greene.
Girls' Soccer Coach: Greg Herbert.
Boys' Basketball Coach: Chris Lun.
Girls' Basketball Coach: Pete Kenah.
Baseball Coach: Joe Cassidy.
Boys' Lacrosse Coach: Mike Ricucci.
Girls' Lacrosse Coach: Katie Bitonti.
What happened last year: The girls' soccer team won the state championship, finishing with a 16-1-1 record. The boys' basketball team finished state runner-up. The girls' basketball team reached the region semifinals and finished with a 21-3 record, including a 20-game winning streak. The girls' lacrosse team won the region title and posted a 13-3 record. The baseball team finished region runner-up.
Quotable: "The [fondest] memory I have of [winning the state title] is the joy on the girls' faces when that final whistle blew. Just to see them sprint out onto the field and hug each other with tears of joy in their eyes just let me know how much this meant to them and that all this hard work for them finally paid off." — Girls' soccer coach Greg Herbert