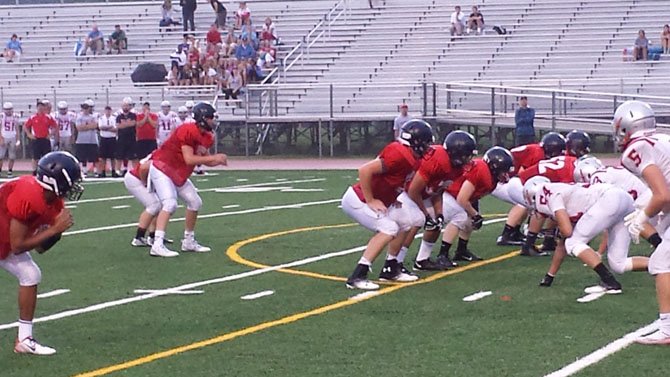 Mike Dougherty was leaving the Stonewall Jackson football program after six seasons when someone asked the location of his next head-coaching stop.
Woodson, Dougherty replied.
The response: "Where's that?"
W.T. Woodson High School is located in Fairfax. The football program, however, is lost in a state of anonymity after four losing seasons. In 2009, the Cavaliers finished 11-2 and reached the Division 6 Northern Region championship game. Since then, Woodson has a record of 10-30 and has failed to win more than three games in a season.
Dougherty, who led Stonewall Jackson to the 6A North region semifinals in 2013, will attempt to turn Woodson football back into a winner.
"We're trying to get on the map," Dougherty said recently. "… We want to change the way that people view us and the way we view ourselves."
How do you change the culture of a football program?
"The key thing is getting them out of their comfort zone," Dougherty said. "We're gaining ground on that but we still have a long way to go."
"We're trying to get on the map. … We want to change the way that people view us and the way we view ourselves."

--- Woodson football coach Mike Dougherty
OFFENSIVELY, Dougherty has eliminated comfort by installing an up-tempo spread attack. After operating out of the methodical wing-T in recent seasons, the Cavaliers are now hustling to the line of scrimmage in practice, trying to run three or four plays every minute.
The idea of a hurry-up offense appealed to players at first, Dougherty said, until they realized how much work was involved. The Cavaliers have bought in, however, and hope to evolve into a potent point-scoring unit.
"It was a very tough transition because you hear 'up-tempo spread offense' and you're like, 'yeah, that's awesome,'" senior quarterback Patrick Riley said. "But once you get to running it live, you're like, 'this is quick.'"
Riley returns for his second season as Woodson's starting signal caller. Dougherty said Riley has a chance to thrive in the team's new offense.
"He's a leader in our offense," Dougherty said. "It's really designed around the quarterback being the statistical leader on every front. … He's a competitor, he's smart and he has a real high football IQ."
Senior wide receiver Conor McLaughlin will be Riley's top target on the outside, while senior China Moon will be a factor at inside receiver. Senior receivers Will Cogan and Andrew Snodgrass, junior receiver Jack Caldwell and sophomore receiver/tight end Torin Shanahan will also figure into the passing game.
Helping Riley with the ground game will be senior running back Brian Smiga.
"He's got great feet," Dougherty said, "and he runs really hard for small guy."
Senior running back Jacob Oleyar and sophomore Alex Olson could also see some carries.
Along the offensive line, senior tackle Lion Nitschke is one of the Cavaliers' biggest players at 6 feet 6, 260 pounds. Junior guard Mike Fox and senior center Josh Kim will also be contributors.
DEFENSIVELY, Woodson will operate out of a base four-man front. Dougherty said the secondary is the strength of the unit, led by safeties McLaughlin and Moon, and cornerbacks Jack Caldwell, a junior, and Thomas Anderson, a senior.
Junior Chris Gardner and senior James Strasser are impact players along the defensive line, and junior middle linebacker Nolan Brahmey is the group's signal caller.
Woodson opens the 2014 season on the road against Oakton at 7:30 p.m. on Friday, Aug. 29. The Cavaliers' first home game is Sept. 5 against Robinson.
"We want to make it to the playoffs," Riley said. "… We want to get Woodson back on the map."