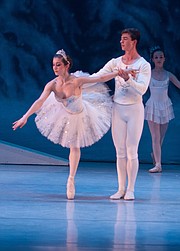 Last week more than 100 students ages 4 to 18 took audiences on a magical adventure in the Conservatory Ballet's production of "The Nutcracker." For more than a decade, fighting mice and triumphing over the evil Mouse King has marked the start of the holiday season for South Lakes High School (SLHS) Senior Colin Lamoureux. His quiet strength and attention to detail have served him well on his journey from toy solider to heroic Nutcracker. They've also won Lamoureux the confidence of his partners who rely on him to lift, turn, steady and catch them in the breathtaking steps that captivate young and old alike.
This year's cast also featured SLHS junior Sara Petrosian who enchanted local audiences with her elegant arabesques, soaring grand jete's and dizzying pirouettes in her performances as Sugar Plum Fairy, Snow Queen and the Waltz and Spanish solos. In addition to the long hours spent in class and rehearsals, Petrosian also teaches several classes and assists with the many details that go into planning and producing The Nutcracker. But what makes the studios at the Conservatory Ballet a second home to Petrosian is Artistic Director Julia Redick.
Petrosian credits Redick's teaching and guidance with providing her with the technical skills and artistic experience to take advantage of several professional opportunities to include performing at the Kennedy Center with the Marinskii Ballet, attending the Gelsey Kirkland Academy summer intensive program, and the subsequent invitation from Kirkland to join the Academy's full time professional training program in New York City.
For more than four decades, the Conservatory has delivered an event well known for its incomparable pageantry and charm. Based on a German fairy tale and set to music by Pytor Illyich Tchaikovsky, The Nutcracker transforms the stage into a fantastical place where brave toy soldiers battle mischievous mice, an elegant Snow Queen and her princesses dance with delicate snowflakes across a moonlit wonderland, and enchanted flowers, whirling Russians, exotic Arabian girls and fiery Spanish dancers entertain the Sugar Plum Fairy and her guests.
Established in 1972, the Conservatory offers early childhood, pre-professional and adult ballet instruction. Its curriculum program produces more professional ballerinas than any other pre-professional dance academy in the greater Washington area. Students have performed with numerous well-known companies including American Ballet Theater, Dance Theater of Harlem, the Bolshoi, Boston, English National, Fort Worth, Mariinsky, Miami and Stuttgart Ballets.