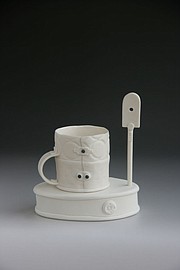 The Workhouse International Ceramic Cup Show celebrates contemporary handmade drinking vessels with 75 works from artists near and far. The popular cup exhibit, which is in its third year, takes over half of the gallery space in Building W-8 at the Workhouse Arts Center in Lorton.
Curators Pam Eisenmann and Joan Ulrich are happy to explain why this event is so well-loved by visitors beyond fine art collectors.
"Cups are accessible," Eisenmann states. "Everybody uses them, and to be in a room with 70-plus artistic versions of this humble vessel is eye opening."
Ulrich is quick to add, "More than that, it's just plain fun. We encourage visitors to touch, and excited conversations break out as admirers pass the cups back and forth with a real sense of discovery."
The variety never ceases to amaze, and it's not unusual that many clay collectors are stirred by the simple cup. "I think of it as the gateway drug to appreciation of handmade ceramic objects," Ulrich says.
This year's exhibition was selected by Phil Rogers, an icon in the ceramics world. He has authored tomes considered to be bibles by many potters. Rogers resides in Wales, and will appear via Skype for a conversation during the exhibit.
Rogers is known for his wood and salt-fired pots, so it is no surprise that many such atmospheric works were submitted for his consideration. Chawan, yunomi, and tea bowls are well represented, along with standard "western" mugs, tumblers and whiskey cups.
Drink This! opens on Jan. 7 and runs through Feb. 2. There will be an opening reception on Saturday, Jan. 10, 6-8 p.m., during Second Saturday Art Walk. A special curator-led exhibit tour will happen on Sunday, Jan. 18 at 10 a.m., followed by a Skype conversation with Phil Rogers at 11 a.m.
Exhibit hours are Sunday-Tuesday: 12-5 p.m. and Wednesday-Saturday 11 a.m.-6 p.m.