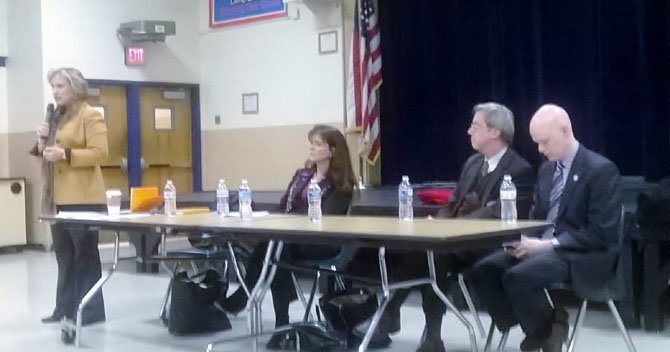 The school board has already approved their FY 2015 budget, but concerned teachers and parents continue to voice their concerns as the process to receive county funding moves on.
The budget was among several topics addressed at Twain Middle School on Feb. 17, a stop on Superintendent Karen Garza's listening tour.
Lee District School Board member and Vice Chairman Tamara Derenak Kaufax said school board members and county supervisors need to be certain that tax dollars are used smartly.
"The needs of our schools are greater than they ever have been before, and our community will really have to come together to meet these needs," Kaufax said. "I believe as the sixth wealthiest county in the United States, we must be able to support the needs of our students-all of our students."
Garza has visited about 67 schools so far, and plans to visit 100 this year.
The superintendent addressed achievement gaps, the school system's population growth, capacity challenges, and the long-term cost of sustaining the school system.
Garza stressed that she intends to work with the Board of Supervisors as the budget process moves forward.
"While we are in cost-cutting mode, and have been for five to six years, it's also a time for us to really think about the future," Garza said.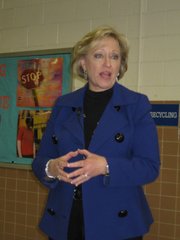 After Garza and Kaufax spoke, the microphones were opened to attendees of the listening tour.
"The purpose of these listening tours is exactly how it sounds. These are to listen to you," Garza said.
Jennifer Bury, a Spanish teacher at Lee High School who is among 22 teachers in the state appointed to the governor's cabinet, addressed professionalism in the school system while holding back tears.
"While I would certainly never decline a pay raise, I think the biggest issue right now is the quality of professional life. As some of the parents have touched upon, I want my time in my classroom, and I want to be trusted in the classroom," Bury said.
Bury said she often cannot see students after class because she always has meetings.
"I have kids that come Fridays because that's the only day I don't have meetings. A lot of it has to do with the data, and I spend so much time proving that I'm doing what is supposed to be done in my classroom," Bury said.
According to Bury, she has attended meetings with people from the county who tell her what to do in the classroom.
"To me, it's the biggest slap in the face to be told what to do in my classroom to someone who has not been in the classroom," Bury said.
The tour is almost over, with only one remaining stop at Lake Braddock Secondary School with School Board member Megan McLaughlin on Feb. 24.
The school board will officially present their budget to the Fairfax County Board of Supervisors on April 8, with public hearings on the county budget occurring April 8-10.