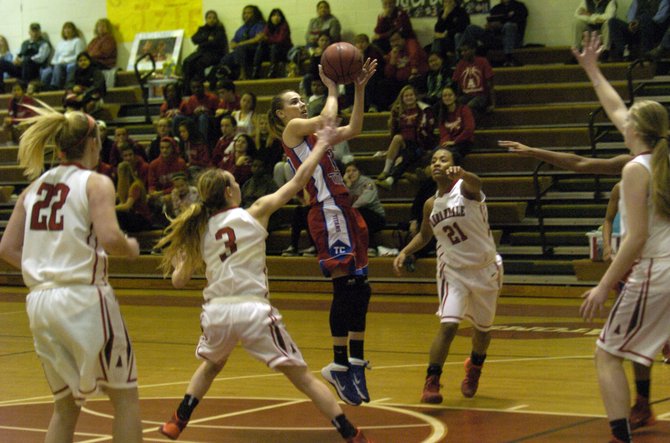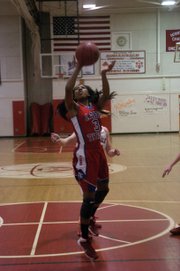 The T.C. Williams girls' basketball team was too talented to have a 4-5 record.
Head coach Kesha Walton saw the team's high-end potential, but inconsistent play hampered the Titans during the 2013 portion of their schedule. With the team gathered in the locker room after a practice in early January, Walton set a lofty goal for the defending Patriot District champions as they prepared for the remainder of the season.
T.C. Williams' New Year's resolution: no losing during the 2014 portion of the regular season.
Six weeks later, T.C. Williams wrapped up its regular season with a 64-47 victory at Annandale on Tuesday. Angie Schedler led the Titans with 19 points and nine rebounds. Rejoice Spivey, seemingly capable of getting to the rim whenever she pleased, scored 18 points. Tykera Carter chipped in 17, including 10 in the first quarter.
But this wasn't just any win. This victory meant the Titans concluded the regular season having played to their potential. T.C. Williams extended its winning streak to 13 games and remained undefeated in 2014.
"Tonight was just very special because it was the end of our regular season," Walton said. "We set a goal and I'm just ecstatic that my girls just worked hard and achieved the goal. That let us know what they're capable of."
T.C. Williams is led by the talented foursome of senior guards Carter and Schedler, junior guard Spivey and junior post Grace Peterson, though Peterson missed Tuesday's game with an ankle injury. Early in the season, the Titans struggled with chemistry --- a problem they worked to fix.
"It definitely feels great because if you would have seen us in the beginning, we were a little out of sync," Carter said. "It took a lot of hard work, practice, communicating, hanging out to really get things down, and it just shows how important that stuff really is in basketball, being together all the time. It feels great that we came together, especially at the right time."
"We set a goal and I'm just ecstatic that my girls just worked hard and achieved the goal. That let us know what they're capable of."

--- T.C. Williams girls' basketball coach Kesha Walton
Schedler said she could tell things had turned around for the Titans on Jan. 11 when they defeated a North Point team that entered the contest with a 9-0 record.
"For me, it's great because it's my senior year and I'm so excited to know we're 13-0 in 2014," Schedler said. "… [W]e're still hungry to win the conference."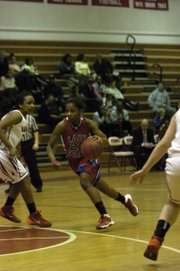 T.C. Williams sits atop the Conference 7 standings with an 11-1 record, with its lone defeat coming against West Springfield. The Spartans are second at 10-1 and are scheduled to conclude their regular season on the road against Woodson on Friday, Feb. 14. If the teams finish tied, a coin flip will determine the No. 1 seed, which receives a first-round bye in the conference tournament.
While T.C. Williams will have to tend to other business first, Carter said the Titans want to face West Springfield again.
"I'm definitely looking forward to it because we want to play the best competition," she said. "We're tied for No. 1 so I think this will really show who is the No. 1 team in the conference if we go up against them again."
However, Spivey said last year's tournament showed the Titans they have to be ready for anything. T.C. Williams faced Woodson, not West Springfield, in the district championship game after Woodson upset West Springfield in the semifinals.
"Expect the unexpected," Spivey said. "Because we definitely expected something different last year."
T.C. Williams will have to wait until next week for an opportunity to extend its winning streak. If the Titans end up as the No. 2 seed, they will play in the first round of the conference tournament on Tuesday, Feb. 18. If the Titans get the top seed, their next game will be in the semifinals on Wednesday, Feb. 19.
"Our issue has been consistency," Walton said. "We play the top team one night and we play unbelievable. Then we play a team that's not as talented, and then we play down. I saw [our ability] in spurts, so [the resolution] was more of me setting the goal, but I actually did believe it in my heart that if I could get these girls to play at a consistent level, we could make a little bit of noise here."