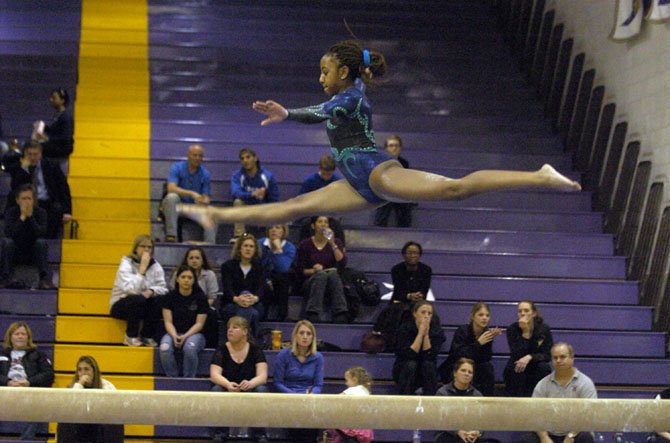 After finishing runner-up in the all-around competition at the Conference 7 gymnastics meet on Jan. 31, South County freshman Collea Burgess said it wasn't her best performance.
More than two weeks later at the 6A North region meet, Burgess delivered a performance more to her liking.
Burgess won the all-around region championship on Tuesday at Lake Braddock Secondary School with a score of 38.234 and earned a trip to the state meet. She finished first on floor (9.517), placed second on vault (9.65) and beam (9.367), and took third on bars (9.7).
"I think I did the best I could," Burgess said. "I think I did a lot better than I did at districts. … After I was done competing [on floor], I was like, I think I'm good. I probably could win."
Burgess was the only gymnast in the region to score 38 or better.
"She's just started," South County coach Val Taguding said of the freshman gymnast. "She still has some more tricks to be thrown. She hasn't pulled out her entire arsenal."
Fairfax's Rachel Barborek finished all-around runner-up with a score of 37.967 and Westfield's Katie Freix placed third (37.425). Each qualified for the state meet.
Hayfield's Molly Overstreet finished first on bars (9.75), T.C. Williams' Holland Cathey won the vault title (9.775) and Freix finished first on beam (9.433).
Washington-Lee won its third consecutive region title with a score of 140.449. McLean finished runner-up for the third straight year, finishing with a score of 140.077. Each advanced to states.
T.C. Williams finished third with a score of 138.459, followed by Robinson (128.766), Oakton (127.8) and Woodson (123.19).
The state meet will be held Feb. 21-22 at Salem High School in Virginia Beach.