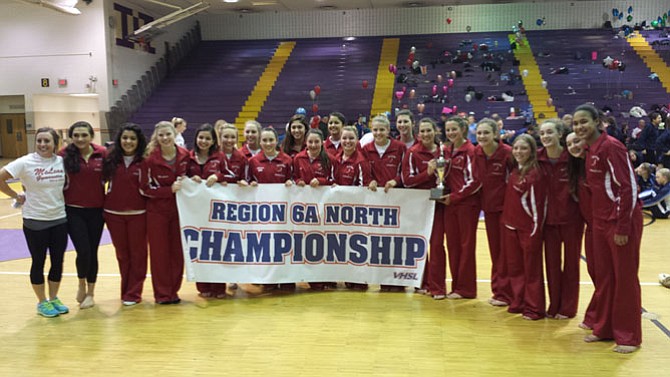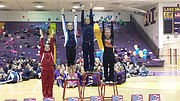 The McLean gymnastics team's quest for a region title got off to a less-than-ideal start, with the Highlanders failing to match rival Washington-Lee's score on beam during the first rotation of the 6A North region championship meet at Lake Braddock Secondary School.
McLean had finished region runner-up behind W-L each of the last three seasons. But after their early mishaps on beam, the Highlanders left no doubt who was No. 1 in 2015.
McLean captured the region team championship on Feb. 11, finishing more than three points ahead of the field. The Highlanders produced a score of 144.425, followed by runner-up Battlefield's total of 141.025.
"It feels amazing," McLean head coach Courtney Lesson said. "They've wanted this for so long."
After winning three consecutive region titles, Washington-Lee placed third with a score of 139.525 and failed to qualify for states.
"If you looked at the individuals, there were only one or two [Battlefield] kids up on the medal (stand)," W-L head coach Joe D'Emidio said, "but they had better depth than we did."
After producing a score of 34.575 on beam, which ended up third behind Battlefield and W-L, McLean turned in the top score in each of the final three events.
"Beam, we started off a little rocky, but I think that was kind of a good wake-up call for us," McLean senior Lizzy Brown-Kaiser said. "It told us, look, we have to really get our heads in it and put everything into this meet and we did. We came back really strong on floor and that just set the tone for the rest of the meet for us."
Brown-Kaiser led McLean with a fourth-place finish (36.95) in the all-around, which qualified her to compete at the state meet. W-L senior Sophie Hatcher won the all-around with a score of 37.65, followed by Yorktown freshman Bella Kane (37) and Hayfield junior Molly Overstreet (36.975).
South County sophomore Collea Burgess, last year's all-around champion, attended this year's region meet but did not compete. Burgess said her club coaches (Apollo Gymnastics) did not want her to compete.
Brown-Kaiser tied for third on bars (9.05), placed fourth on floor (9.575) and beam (9.075) and eighth on vault (9.3).
Brown-Kaiser was named the region's Most Outstanding Senior.
"She did a great job," Lesson said. "She's a really great leader on the team. I couldn't be more proud. She really deserved that award. She cheers for everyone. Even other teams, she's always out there cheering for them."
McLean's Jacqueline Green placed sixth in the all-around (36.475), including second-place finishes on vault (9.55) and floor (9.7).
McLean's Carolyn Brown-Kaiser qualified for states on vault, placing eighth with a score of 9.3.
Herndon's Alexa Bradley, who won the Conference 5 all-around title, qualified for states on bars (sixth, 8.9) and floor (9.4).
"I didn't think I was going to make it because last year I didn't make it," Bradley said. "... [I learned] not to put so much pressure on myself because there are so many good girls here. I just had fun and it turned out well."
The Highlanders' 2014-15 season has included a Conference 6 championship and a 6A North region title. Now they will compete for a state championship.
The state meet is scheduled for Feb. 20-21 at Patriot High School.
"That would be amazing," Lesson said about potentially winning conference, region and state titles this season. "It's just all about hitting your routines --- getting all your bonuses connected and hitting each event."