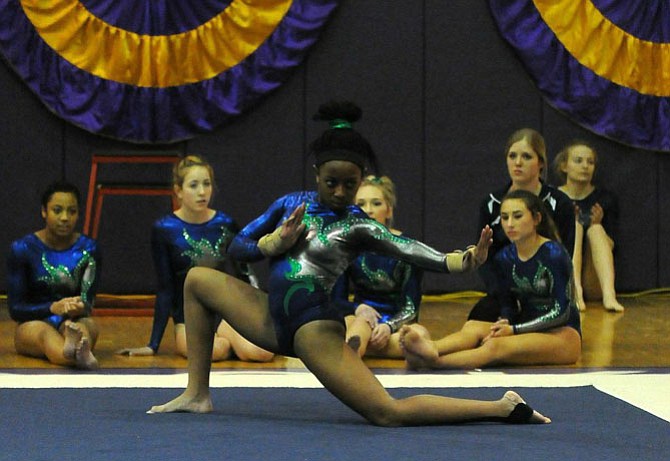 South County gymnast Collea Burgess landed awkwardly during her beam routine at the Conference 7 championship meet and re-injured her left ankle.
The sophomore had worn a boot on her left foot for three months after breaking a bone during a club practice. Now, competing in the all-around for the first time since her injury, Burgess was in pain and in danger of finishing the meet as a spectator.
Burgess had completed bars and beam, but there were still two events remaining. South County head coach Val Taguding suggested Burgess, a Level 10 club competitor at Apollo Gymnastics in Woodbridge, ice her ankle and see if it felt better.
Burgess' mom had a less-sympathetic approach.
"I talked to [Burgess] and said ice it first and see how it feels," Taguding said. "... Her mom came and talked to her and told her to suck it up."
Burgess managed to "suck it up," finishing the meet in championship fashion. She placed first on floor (9.55) and vault (9.55) on her way to winning the Conference 7 all-around title Feb. 4 at Lake Braddock Secondary School.
Burgess' effort also helped South County capture its first team conference championship in the program's three-year history. The Stallions finished with a score of 135.175, edging runner-up Lake Braddock (134.95). Both teams qualified for regionals.
"I'm just so proud of our girls," Taguding said. "We went from a 112 [in our first meet] to a 135, which shows ... how much they've learned and how much they've grown as a team."
Burgess played a major role in the Stallions' success.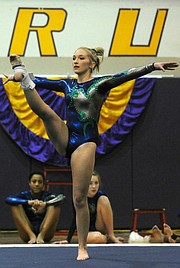 "It was huge," Taguding said about Burgess' return to the all-around competition after three months in a boot. "... We wouldn't have been in the top three ... if Collea hadn't [competed]."
Burgess won the all-around with a score of 36.05. Lake Braddock's Jordan Clark finished second with a total of 35.575, followed by T.C. Williams' Cailyn Lager (35.225) and West Springfield's Abbie Levine (35.125).
The top four all-arounds advanced to regionals.
Burgess started her evening with a fourth-place finish on bars (8.425) and a fifth-place performance on beam (8.525).
"Definitely, I was nervous to come back because I [feared] getting injured again," Burgess said about competing in the all-around. "The first two rotations I shook out the nerves."
South County sophomore Faith Baxter placed seventh on floor (8.9), eighth on vault (8.8), tied for eighth on bars (7.9) and tied for 10th on beam (7.95).
"It wasn't my best, but I think I definitely helped the team," said Baxter, who transferred to South County from Fayetteville, N.C. before the school year. "I couldn't be happier."
South County's Alicia Williams finished sixth on bars (8.25) and Ashley Aleandre placed seventh on beam (8.425).
The 6A North region meet is scheduled for 4 p.m. today at Lake Braddock.