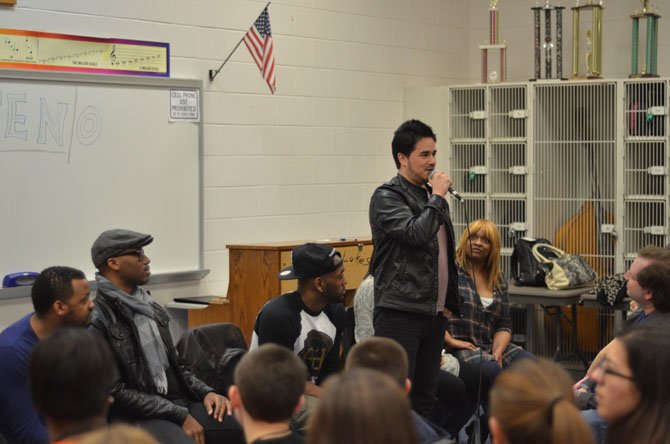 For three days at South Lakes High School in Reston, the music of the human voice was celebrated with the sixth annual SingStrong International Charity A Cappella Festival. This event featured five concerts, an auction, and over a dozen classes and coaching sessions from professional musicians.
Event profits supported the Alzheimer's Association and local music programs. "Alzheimer's is a disease that is least funded for finding a cure," said South Lakes High School Choral Director, Rita Gigliotti. "We are very passionate to help find a cure for this illness." Helping to put the event in operation was a team of volunteers. "Our volunteers come from all over," said event registrar Christina Parke, a resident of New York City. "Every year is different and a new experience…we see each other once a year and we are always accepting new members."
South Lakes freshman Madeline Emmbert volunteered for the event. "Our music teacher told us in advance about this event," said Emmbert. "It is awesome that all these fantastic musicians could come preform." Music styles included pop, jazz, rock, barbershop, reggae-tone, beatbox and more, all performed a cappella. Groups used only their voices to perform leads, harmonies and to vocally imitate a virtual orchestra of sounds, including jazz trumpet, classical strings, distorted electric guitar and a full drum set.
On Friday, the SingStrong held a 7 p.m. Friday Night Concert, "ACA-Idol". This was an a cappella competition for professional and collegiate groups in the style of American Idol. Celebrity judges gave live feedback. The show was hosted by Jonathan Minkoff, executive producer for the annual international a cappella SingStrong festival.
Held on Saturday afternoon, the SingStrong High School Competition was an opportunity for the best high school groups to compete for awards. All performances were completely a cappella and no instruments were permitted. After intense performances, judges awarded Henry E. Lackey High School's a cappella group Fully Charged first place. Second place went to the team Monacan Singers, who travelled in from Monacan High School in Richmond. Third place was won by the DoReMigas, South Lakes' ladies a capella ensemble. Best female soloist was awarded to Destiny Jones, student of Henry E. Lackey High School. Best male soloist was awarded to Harrison de Wolfe, student at South Lakes High School.
SingStrong presented over a dozen classes on topics as recording techniques, stage presence, forming and directing an a cappella group, copyright law, and musical arranging. From beginners to pros, these classes were designed to help anyone interested in a cappella take their skills to the next level.
The SingStrong Saturday night main event concert featured multiple professional a cappella groups including Blue Jupiter, Stiletta, The Funx with Nate Tao, Amy "Bob" Engelhardt, and Blake Louis. Between concerts, there was a silent charity auction to benefit the Alzheimer's Association. The SingStrong Saturday concert featured an entirely separate slate of professional a cappella groups, including Classic Sounds, Grace McLean, Kaila Mullady, and Ten. The final show of the event was held Sunday.
"It has been so amazing seeing everybody here appreciating the human voice," said musician Blake Louis. A singer-songwriter and beatboxer, Louis was the runner-up on the sixth season of American Idol. The audiences gave standing ovations after the performances. "Sing Strong is in Reston because Rita Gigliotti is based in Reston," said Jonathan Minkoff, who is also a member of the vocal band Blue Jupiter.
Gigliotti expressed much appreciation to the Reston community for their support for SingStrong and the music exposure it gives to students.
To learn more about SingStrong, visit dc.singstrong.org/