Distinguished chamber members were recognized at the annual Holiday Biz Awards Celebration hosted by Mount Vernon-Lee Chamber of Commerce.
"While we formally recognized six chamber members, we salute the many exemplary businesses in our chamber of commerce that provide jobs, support the community, and contribute to the great quality of life we all enjoy," said President Ashley McNeff Behrens.
Col. Greg Gadson, commander of Fort Belvoir, was selected Chamber Citizen of the Year. Gadson took command of Fort Belvoir on June 25, 2012. He is married and the father of two Mount Vernon High School graduates. He currently resides in the Mount Vernon community. A 24-year career Army officer, Gadson's life is a portrait of courage in the face of great adversity and was lauded as a true American hero.
"The Best" Small Business of the Year was awarded to Personal Pride Floor Services owned by Damon Hinshaw.
Celebrating its 25th anniversary, Personal Pride Floor Services has six employees and does work in Virginia, D.C., and Maryland. It specializes in custom installations, sanding and refinishing. Damon and his crews are known for their custom installation work. Damon also finds time to volunteer as a leader with the Boy Scouts of America and is an assistant coach with the Lee-Mount Vernon basketball association.
"The Best" Mid-Size Business of the Year award was presented to Farzana Kennedy, owner of Alexandria Compounding Pharmacy.
Alexandria Compounding Pharmacy is a personal and professional pharmacy focused on the improvement of patient care through the art and science of compounding for more than 50 years. Kennedy is a preceptor for several pharmacy schools including: VCU, Howard University, The Ohio State and UNC. She formerly spent two years as an adjunct professor at Howard University. She also speaks on compounding at conferences and seminars, and she consults on pain therapy and hormone replacement. She also volunteers at the Carpenter's Shelter.
"The Best" Large Business of the Year went to Davis Industries in Lorton and was accepted by President Fred Bonnett.
Family-owned and operated for more than 70 years, Davis Industries specializes in buying ferrous and nonferrous metals. Davis Industries is the premier location for metal recycling in the greater Mount Vernon area. Each year, more than 30,000 cars are recycled which otherwise would be sitting in landfills. Davis Industries works with the Fairfax County Fire and Rescue Department to provide cars for training personnel on car fires and rescues. They have made contributions to local charities and to the Women's Suffrage Museum at the Lorton Workhouse.
This year, the chamber Board of Directors has decided to introduce a new award to recognize the outstanding non-profit organizations based in its service area. Receiving the award for "The Best" Organization of the Year was Mount Vernon Community Children's Theatre.
Mount Vernon Community Children's Theatre was founded in 1980 as a not-for-profit organization to provide area youth with quality theatrical experiences that are educational, creative, engaging and supportive. Through the use of hands-on learning of the theatrical arts, MVCCT offers children, ages 3-18, the opportunity to enhance their development — building self-confidence, character, self-expression, autonomy and responsibility.
"The Best" New Business award went to Mount Vernon CrossFit.
Mount Vernon Cross was a joint effort of Sean Dunston, Vanessa Wheeler and John Johnston.
CrossFit is the principal strength and conditioning program for hundreds of other elite and professional athletes worldwide. The program at Mount Vernon CrossFit delivers fitness that is, by design, broad, general, and inclusive. A CrossFit for Kids class is being held twice a week and the CrossFit Teen class is preparing many local youth to excel on their high school sports teams.
One more special guest recognized was a celebrity graduate of West Potomac High School, Dr. Michael Nickens, head of the "Green Machine" pep band at George Mason University. Nickens showed a video of the GMU Band and spoke briefly.
Special music for the evening was provided by the West Potomac Chamber quartet under the direction of Alicia Day-Javkhlan.
Photo Gallery
Honoring Best in Business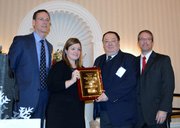 Click Photo for Flash