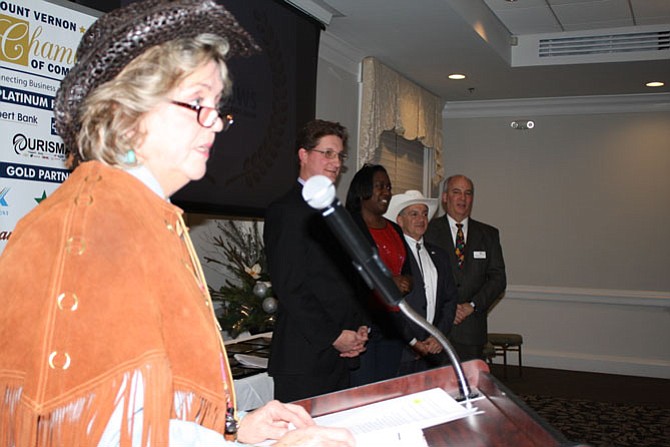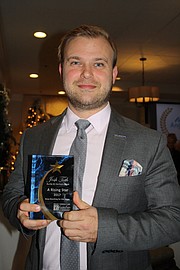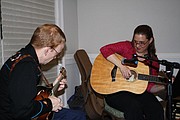 The small businesses that are an economic engine to the Richmond Highway corridor were recognized last Friday, Dec. 15, by the Lee-Mount Vernon Chamber of Commerce, who added a western flavor to the evening they named "Boots, Bells & Bling."
Outgoing chairman Jane Gandee had her hat, boots and western wear in the closet from a past life, so she fit in perfectly. "I grew up with horses so I didn't need to buy anything," she said. A musical duo called "Switchback," played the opening music, which was a combination of bluegrass and holiday music.
There were other western hats and fancy boots in the party room at the Mount Vernon Country Club as the incoming chairman, Scott Stroh, took to the podium. "Let's have a big yee haw," he said, getting a laugh from the group.
After introducing the elected officials Del. Paul Krizek (D-44) and District Supervisor Pat Herrity (R-Springfield), he said a few words and handed it back to Gandee to announce the six "Biz Awards" winners for 2017. "I'll be riding off into the sunset," Gandee said.
The first award went to Doug Jones, the Citizen of the Year. Jones was chairman three times in his chamber career, and "really a supporter of small businesses in the Route 1 corridor," Gandee said. Jones has been in the chamber since the 1990s.
"We have a real chamber we can be proud of," he said.
The next three awards were for Business Excellence, and the winners were the Fairfax Retirement Community, ACC Family, and Mount Vernon Physical Therapy. The retirement community is for ages 55 and above, and it offers a beauty salon, concierge, and fishing pond for residents. "It's the little no-cost extras that make a difference," Gandee said.
The United Community Ministries won the "Non-Profit of the Year," award, and Alison DeCourcey, the executive director of UCM, noted the plans that are underway, reorganizing, strategic planning and bringing on a new executive team to enhance their mission. "UCM is changing for the better, we're helping them break the cycle of poverty," DeCourcey said.
Finally the "Rising Star Award," went to Josh Toft, a graduate of Radford University who went into the media field before finding a spot at Burke and Herbert Bank.
Chamber newcomer Daniela Gilardelli opened a new business, "Tutor Doctor" to help students, and she talked about the number of students that graduate high school without the basics of education. Tutor Doctor "teaches how to learn," Gilardelli said. She was in a chamber of commerce near Milano, Italy and noted the differences in the chambers. "Very different, not as much networking," she said.
The next chamber event on the calendar is the Business Scholarship Donation on Dec. 30.