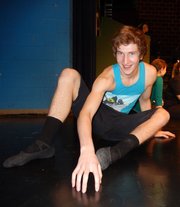 If Oakton High senior Shanelucas Ramsey has been acting a bit catlike recently, there's a good reason. He has a featured role in the Fairfax Academy's upcoming production of "Cats."
Featuring a cast and crew of nearly 85, it will burst upon the Fairfax High stage in what promises to be a treat for both the eyes and ears. It's directed by Mike Replogle, director of the Musical Theatre Academy, and choreographed by Andrea Heininge, who heads the Dance Academy.
SHOWTIMES are Friday-Saturday, Jan. 17-18 and 24-25, at 7:30 a.m., and Sunday, Jan. 19 and 26, at 2:30 p.m. Tickets are $12.50 presale at http://fxdance.ticketleap.com or $15 at the door. Saturday, Jan. 18 and 25, at 2:30 p.m., with the Young Artists Series, shorter performances with $5 tickets and special activities for children.
There's no script, just a musical score based on T.S. Eliot's poems, and the story's about a tribe of cats. But this hit musical is the second-longest-running show on Broadway. "All cats have to earn their nine lives by serving the tribe or learning something to teach to the next generation," explained Replogle. "And in each vignette, each cat pleads their case for why they should be renewed."
Ramsey and Woodson High junior Lara Taylor play burglar cats Mungojerrie and Rumpleteazer, respectively. "They're not bad, just mischievous," said Taylor.
"They're the neighborhood punks," added Ramsey. "Mungojerrie's cocky, but not particularly brave. But he's definitely goofy and weird. He's a cool cat who enjoys causing mayhem. I love playing him and doing the song and dance we have together. My cat has no boundaries; he's fun, energetic, cheerful and carefree."
Taylor said they "don't hold back" and actually embrace acting like cats. "We're open to just going for it and giving 100 percent," she said. "If we give our all, we know the audience will relate to it more." For example, Ramsey gets into character by getting down on all fours, arching his back and deliberately focusing on making his motions catlike.
"It's definitely a different experience because it's a feline-type interaction," he said. "Sitting down, you can't cross your legs – and you have to think about the little details of what cats can and can't do."
In their number called "Mungojerrie and Rumpleteazer," said Taylor, "We do lots of physical things, besides singing. Rather than being slinky cats, we're athletic, energetic, funny and in-your-face."
"I've never had a role with vigorous dancing and singing at the same time," said Ramsey. "It's an upbeat, character song and comic relief to what's going on." He said all the show's musical numbers will wow the audience because "we have some really strong dancers and powerhouse singers. But I think the highlight is the dancing."
"The costumes are all airbrushed and unique, and every one is different," added Taylor. "That, plus the songs, dances, makeup and characterizations of the cats will make it an experience the audience will really enjoy. It's great for kids, too, with different meanings for multiple generations."
THE FAIRFAX ACADEMY draws performing-arts students from 20 different schools and these actors have been rehearsing since October. Calling Andrew Lloyd Webber's music memorable, Replogle said, "Most of it is victorious, uplifting and fun. And Andrea's really outdone herself and has created some beautiful dances."
Because the actors are portraying cats, the set's an oversized end of an alley with trash, tuna cans, broken windows and a fence. Replogle said the makeup is also spectacular. "Each cat's face will illustrate their personality," he said. "I hope people leave here remembering why they liked this show so much in the '80s."