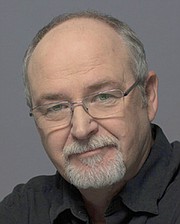 Many people are familiar with Fairfax High School's theater program, but the Fairfax Academy's Musical Theatre Actors' Studio has a stellar reputation for excellence, as well. And it's due in great part to its director, Mike Replogle.
A former professional actor/director in New York, he has numerous film, television and stage credits, has performed in two national theater tours and has acted on several local stages, including The Kennedy Center.
Replogle was the Founding Artistic Director for the City of Fairfax Theatre Co. He's directed more than 80 professional and community-theater productions and won the area's first WATCH Award in direction for "Richard III."
He's in his 19th year at the Academy, where he was named Teacher of the Year in 2013-14. Two decades ago, he'd just moved here from New York and was directing a professional show in this area. Roger Tomhave – who started the Fairfax Academy with Judy Bowns – was in that show and asked Replogle if he'd teach a class.
"I didn't think kids would take acting seriously, but Roger said I could write my own curriculum," said Replogle. "And my wife said I should take the job because she was pregnant."
ALL THESE YEARS LATER, he said, "I still love the job and the kids. Acting is a frightening field to go into professionally because you're playing without a net and are never sure you'll get a job. But I knew how to do that because I did it in New York and could teach it to my students."
Students flock to the Academy's Musical Theatre Actors' Studio from 22 high schools and must audition to get in. "I need to see if they're truly interested in doing this in high school and college," explained Replogle.
They're taught singing, dancing/stage movement, acting for film and stage – but mainly for musicals, and business. And many grads go into producing or theater-management, become agents and managers and even end up acting in national tours.
"The thing I'm most proud of is that, every year, about 96-98 percent of my seniors get into one of their top five schools," said Replogle. "And 100 percent of my kids who want to get into college get in."
To teach any Academy class, instructors must be certified professionals in the field they're teaching. That means they have 10,000 hours or five years' experience working in that business. Replogle also acknowledges the talents of his fellow Academy member who help make the Actors' Studio so successful
"Academy Administrator Andrea Cook is doing a wonderful job; and without her help, we couldn't do any of this," he said. "Our upcoming show is 'Honk!' and Music Director Chris Johnston and Choreographer Meredith Barnes have been so patient and have gone above and beyond in their duty to the students. Chris teaches music computer technology and Meredith is our new dance teacher this year, replacing Andrea when she became head of the Academy."
The Actors' Studio performs one, huge musical every other year. In the off years, the students mainly focus on curriculum and act in musicals in their base schools. Some 90 percent also study with professional vocal and/or dance coaches. And twice a week, Replogle brings in other professionals in these areas to augment their lessons. Theater professionals visit, as well, and alumni return now and then to teach a class.
Besides that, said Replogle, "The colleges know where they can get good kids for their musical-theater programs, so they come visit us. And we send our students to college fairs to see 12-15 schools' programs, all at once."
AS A RESULT, many of his grads have been accepted to continue honing their craft at a variety of prestigious colleges and universities, including Cincinnati Conservatory of Music, Carnegie Mellon, NYU Tisch, Point Park University, UCLA, Emerson and the Royal Conservatoire of Scotland.
Basically, said Replogle, "The Actors' Studio is a place for young people who are really serious about theater and want to find out what they can and can't do, without risking too much. In many high schools, the same few kids get all the good roles. But here, everyone's talented and they're acting with kids from 22 schools."
"So they learn they're not competing against each other – they're competing to bring out the best in themselves," he explained. "The theater is a troupe, so everyone supports each other and becomes a family. All types of people with all types of talents are needed in this craft, and casting directors are looking for people who are kind, show up on time, are prepared and can work well with others."
Replogle said high-school theater is a great place for young thespians because they can be among like-minded students. They even share audition tips and information with each other. They also learn that theater is like any business – all the small parts need to work, too, or the producers lose money and the show ends.
And at the Fairfax Academy, the actors make lasting friendships. "We did 'A Chorus Line' 12 years ago, and the kids in that show are all still friends and are working in the theater," said Replogle. "It makes me feel like I actually helped make a difference; being a part of it is really a blessing in my life."