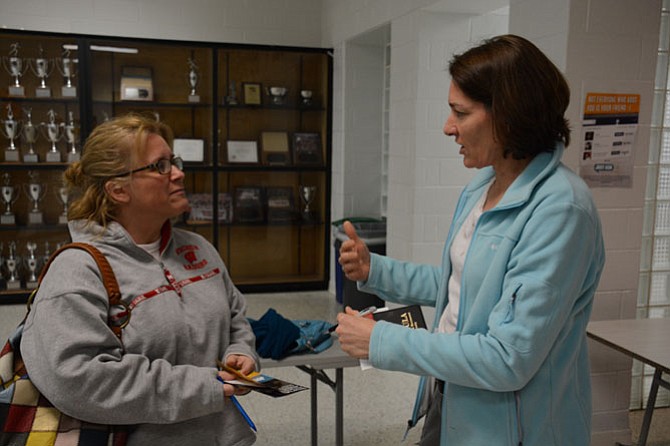 Amy DiGiulian of Springfield came to the meeting for general information on human trafficking. "I had an overall concern," said the mother of students at Robert E. Lee High School, Key Middle School and Garfield Elementary School.
According to Detective Bill Woolf of the Fairfax County Police Department's Human Trafficking Unit, children as young as 12-17 years fall within the typical range of those involved in commercial sex in the United States, a number totalling 100,000 victims annually.
Of those, Woolf said, citing the National Human Trafficking Resource Center, Virginia ranks fifth for the number of potential trafficking cases. In the last 12 months, his office has seen 156 leads in Northern Virginia, often with multiple victims. Over the same period, they've identified over 261 victims and recovered 108 of them.
"My concern has been heightened," DiGiulian said after the meeting.
West Springfield High School counselor Jeff Stahl opened the Jan. 28 program on human trafficking, not intending to frighten but inform. "Is this really a problem in Fairfax County?" he said. "Yes, yes it is. A growing problem, an urgent prob. Our goal is to raise awareness with community, parents, students and children."
IN HIS PRESENTATION, Woolf explained that of all the human trafficking cases, 44 percent are juveniles being exploited for commercial sex.
"The traffickers out there understand human nature, the vulnerabilities that exist among our youth population," Woolf said. "The number one reason preventing getting services to those individuals is misidentification: not understanding what's actually going on in the teen's lives."
Woolf went on to share statistics that the majority of both victims and traffickers are American citizens, and that Northern Virginia has certain attractive qualities for these criminals to operate here.
"We have more prosecutions than any other jurisdiction in the United States because we have a high level of education, are significantly wealthy and think we're somewhat immune to these crimes," Woolf said. "But that makes us more vulnerable. Trafficking is a business. We have the demand here, as one of the top five hubs for sex trafficking in the U.S."
Woolf stressed that education is key in solving this problem, a collaboration among law enforcement, schools, parents, children and community members to understand what the risks are and how to act to prevent or intervene in a bad situation.
Lance Fitzmorris, a father and partner of Woolf's with the Just Ask human trafficking prevention project, spoke about the trafficking phases of scouting and manipulation, the slow process of grooming a victim to submit to their trafficker.
"It's called Just Ask because that's pretty much all you have to do," he said. "Students ask classmates, parents ask children, community members ask if they see something out of place."
West Springfield senior Kyra Beckman was involved with the Just Ask production of a public service announcement about human trafficking. She also started the club Spartans Against Human Trafficking. "The biggest power is your voice," said Beckman, following the meeting.
Beckman's club will be running a wristband campaign for raising awareness in late February or early March. The campaign includes handing out wristbands, showing the public service announcement and hanging posters about human trafficking around school. "We want to make it a topic of discussion," Beckman said.
Dr. Liz Payne, FCPS coordinator for Family Life and Physical Education, shared a portion of a video about human trafficking, produced by the school system to be shown to students of various grade levels. Younger students watch less of the video and longer segments are revealed to higher grades as part of the emotional social health component of their Family Life Education unit.
PAYNE SAID teen sex trafficking information is first taught in sixth grade, with more safety education introduced in seventh grade and then added to in eighth through tenth grades.
"Self esteem is all a part of what we instruct as well," said Payne, "and outreach to parents. There's a synergy around this, an awesome opp to bring stakeholders together."
"I always wanted to volunteer to help against human trafficking," said Claudia Venereaux of Annandale. After the program, she signed up electronically to help out with the Just Ask project. "I went through some traumas; I feel it's my outlet. And I have two children at Braddock Elementary School."
Mary Moran of Springfield has children at Lee, Key and Saratoga Elementary School. "I heard about this event at my church, Nativity," she said. "Then I told my Girl Scouts troop about it. They're working on a GIRLtopia badge. For their cause to focus on, they chose human trafficking."
More information on the Just Ask prevention project is available at www.justaskva.org.