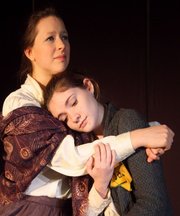 Sovereign Grace Church Co-op Drama Club will present "I Never Saw Another Butterfly," a play based on real-life stories of Jewish children and their families living in the Terezin ghetto in Czechoslovakia during the Holocaust.
The junior and senior high school student cast portrays everyday heroes like Irena Synkova, a schoolteacher played by Ruth Briggs.
"Her goal in life is to care for these…children, she wants… to make them happy… She made such a big imprint, even though she's a fictional character, she's based off of real people," Briggs said.
The play inspires people to find good in painful situations. Jared Okada, who plays a rabbi, said, "The rabbis tried to keep everyone together and keep everyone's hopes up, even though most likely most of them would be going to their deaths."
Terezin operated from 1942 to 1945 as a transit and labor camp for prisoners en route to the Auschwitz death camp, and was also used in Nazi propaganda. Fifteen thousand people passed through, with only 100 survivors remaining by the end of the war.
Director John A. Newman said, "I knew 'I Never Saw Another Butterfly' was a good play… a powerful play, and very serious… It certainly skews to an older audience…"
The drama is recommended for adults and children 8-10 years old and up. "It's more about the people, not exactly the atrocities of the Holocaust, but just what people emotionally had to go through in the ghettos," said Briggs. "It's about family and love and relationships... a beautiful tale of how love lasts even with adversities and danger everywhere."
Playwright Celeste Raspanti based the drama on her previous work, a collection of children's drawings and poems made during their internment. Houston's Holocaust Museum wrote that "we see the daily misery of these uprooted children, as well as their courage and optimism, their hopes and fears." Okada said, "I think that that adds a little more emotional depth… because it's coming from the voice of children who are rather innocent and they don't really know what's going on in the camp."
Proceeds from ticket sales and donations will benefit Tabitha Orphans Fund, a shared initiative of Tabitha Evangel Ministries and Jubilee Campaign that supports orphans whose families suffer religious persecution in northern Nigeria. Newman said, "Those children have experienced a lot of the same kinds of things as these children have… We thought this was still a relevant message… Certainly we can do our part to help never forget." The goal of the cast is to move the audience to greater awareness and action. "If we do that, that will be part of the success," Newman said.
Performances will be held at the main auditorium of Sovereign Grace Church, 5200 Ox Road, on Jan. 23-24 at 7 p.m. and Jan. 25 at 1 p.m. Tickets will be on sale each night at rates of $7 for adults and $5 for students. For more information, visit www.facebook.com/sawabutterfly; to reserve tickets, contact Dawn Okada at 571-213-1384 or dawn@okada.net.