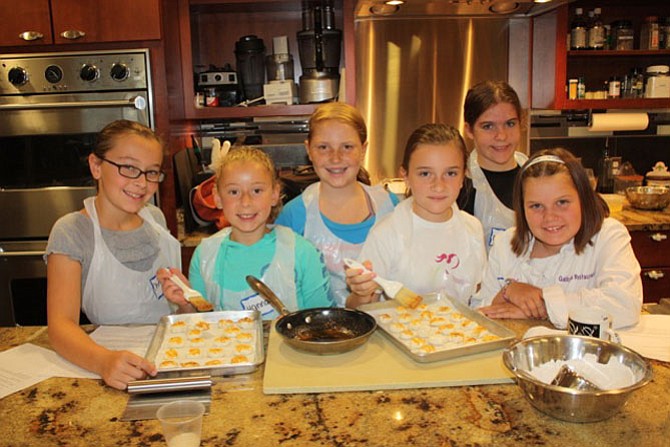 Calling all culinary kids in Vienna - Culinaria Cooking School premieres its first-ever kids' cook-off competition on June 28. Any youngster between 9 and 12 years old, and 13 to 17 years old, is invited to register and compete for prizes equaling hundreds of dollars in each age group.
"We've thought about this for a while," said Culinaria owner Stephen P. Sands. "The kids love the summer camps; some kids come for several camps. A competition inspires them to take their skills further. It really gets them involved in the cooking experience."
Just like "Chopped" on the Food Network, or any of the cook-off shows on television, children in each age group will be given a basket of ingredients that must be used in their dishes. The competition runs over two hours. Basket ingredients will not be revealed until show-time. Competitors have access to Culinaria's well-stocked pantry to complete their courses. Applications due the first week of June.
An "open house," to familiarize contestants with kitchen and pantry larder is planned for early June. Culinaria chefs will be on-hand to encourage and inspire the contestants.
"The kids and their parents are so excited about the things they learned in camp, but, we've never given them the chance to show off what they learned, to show off their cooking skills," said Culinaria office manager, Jen Tabbal.
Go to www.culinariacookingschool.com for details and registration information. To enter, children should e-mail info@culinariacookingschool.com with a subject line that reads, "I want to be the Culinaria Kids Cook-off Champion," explaining their interest in food and cooking, their favorite dishes they prepare, and why they feel they deserve to win. All entrants will be accepted. Include in email the date of birth of competitor, as well as name and phone number(s) of parents. Competition is to be held Sunday afternoon on June 28. The first-place winner in each age group is awarded a professional knife kit valued at $150 to $200 per set. Runners-up receive a professional paring knife. Judges include Culinaria co-owners Stephen P. Sands and Pete Snaith, as well as local restaurant owner, trade specialists and local cooking aficionados.
"To me, it's important that kids learn to cook," said Sands, whose own son, a professional firefighter, is "chef" at the fire station he works at. "My son grew up cooking. He loved it. He still does. Cooking is a life-skill."
Culinaria Cooking School is a recreational cooking school at 110 Pleasant Street NW, Vienna, founded by professional chefs five years ago. Individuals, couples, and kids may register for individual classes or a series. The school's popular summer camps for kids fill up each year.
The school pulls its students from the Vienna-Oakton area and the greater metropolitan D.C. area. Culinaria Cooking School is offering a special event class, "Cooking Basics for Veterans," on July 2, 7 to 10 p.m. Culinaria CEO Sands is a veteran himself and supports the men and women of the U.S. armed forces. Participation fee of $25 covers food cost; price is 70 percent off the price of Culinaria's typical class. Veterans will learn basic knife skills and how to prepare a simple meal --- an entrée, side dish, and dessert. The class is open to all veterans plus one guest for each.