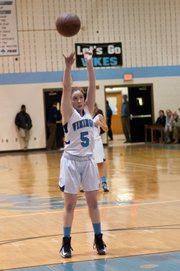 Whitman girls' basketball coach Pete Kenah has had several teams make reaching the state tournament at UMBC a preseason goal.
After last season's experience, however, the 2013-14 Vikings became Kenah's first time to focus not only on getting to UMBC, but winning once they arrive.
Whitman won the 4A West region championship last year and reached the state tournament. The Vikings came up just short in the semifinals, losing to Baltimore Polytechnic 33-32. It was the program's first trip to the state tournament since 2007. This year, Whitman returns several talented players, including senior starters Maddie Cannon, Avery Witt and Rebecca Ford, and has its sits set on another deep postseason run.
Last season's state tournament appearance has helped this year's returning starters "just from a confidence standpoint and a hunger standpoint," Kenah said. "They're really putting a lot on this season, being seniors."
Cannon, a 5-foot-4 point guard, is a brown belt in karate and Kenah described her as a tenacious player.
"She's ultra-aggressive, along with being fearless and very athletic," the coach said. "It makes her a terrific point guard."
Witt is a versatile player who at 5 feet 10 is also one of the team's top 3-point shooters. Ford is a 6-foot-3 post who has a major impact at the defensive end.
"She's an absolute defensive presence," Kenah said. "If she doesn't block your shot, she alters it."
Senior guard Marissa Cannon (5-4), Maddie's twin sister, junior guard Nicole Fleck and sophomore guard Marie Hatch should also be impact players. Hatch is returning from a shoulder injury she suffered last season and had been the Vikings best player in the preseason, Kenah said.
Senior center Ally Markel (6-0), juniors Annabelle Leahy (5-7, forward) and Alison Poffley (5-10, forward), sophomores Betsy Knox (6-0, forward) and Hannah Niles (5-8, guard), and freshman Abby Meyers (5-9, guard) are also on the team.
"They're really putting a lot on this season …"

— Whitman girls' basketball coach Pete Kenah
From an offensive standpoint, Kenah said he will value skill over size and position this season when it comes to deciding which athletes receive playing time.
Whitman will open the season at home against Good Counsel at 7 p.m. on Friday, Dec. 6. Good Counsel is one of two Washington Catholic Athletic Conference teams the Vikings will face this season.
Whitman will travel to face Bishop McNamara on Saturday, Dec. 14. Kenah said while facing the tough competition might not help Whitman's record, it will provide the Vikings with the opportunity to play in front of college scouts.