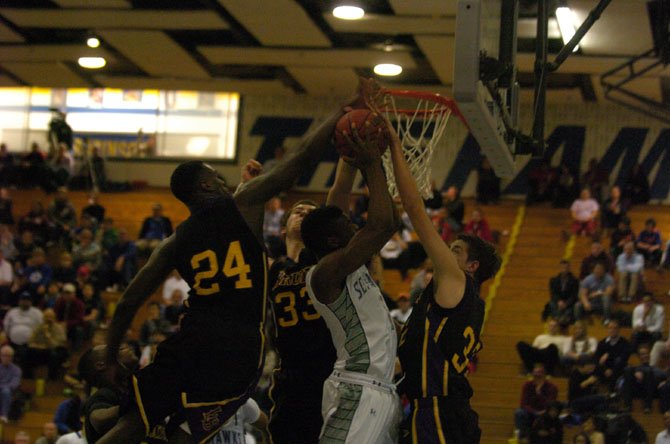 The Lake Braddock boys' basketball team made history on Feb. 28, beating South Lakes 78-61 in the 6A North region semifinals to earn the program's first trip to the region final and first state berth.
The following night, however, the Bruins failed in their quest to beat Woodson for a fourth time.
Woodson defeated Lake Braddock 66-56 in the region final on March 1 at Robinson Secondary School. The Bruins finished region runner-up and will travel to Richmond to face Colonial Forge at 8:30 p.m. on Friday, March 7 in the state semifinals at VCU's Siegel Center. The winner advances to the state final on March 14.
While Lake Braddock fell short of a region title, the Bruins accomplished a program first while assuring their season would continue.
"It's incredible. This is something Lake Braddock has never done before," senior Reagan Jones said. "To be the first team to ever do it, that's why we play. That's why we practice every day. It feels great."
Lake Braddock head coach Brian Metress credited the Bruins' ability to capitalize on mismatches against South Lakes as a reason for success. Senior Will Gregorits, a 6-foot-7 forward, scored 22 points, grabbed 15 rebounds and knocked down 16 of 19 free-throw attempts. Jones, a 6-foot-6 forward, finished with 20 points and six boards. Junior A.J. Alexander, a 6-foot-3 junior forward, had eight points and nine rebounds.
"We have three bigs, and [South Lakes] had a situation where they tried to play two bigs and the problem is one [of ours] is open," Metress said. "The problem we were having was trying to diagnose which guy was open. I thought early in the game it was A.J., middle of the game it was Reagan, and the end of the game it was Will. You just have to pick your poison."
Senior guard John Nice knocked down 4 of 7 from 3-point range and finished with 14 points against South Lakes. Lake Braddock shot 50 percent (7 of 14) from behind the arc.
The win advanced Lake Braddock to the region final, where the Bruins faced a Woodson team they had defeated three times by a combined eight points this season, including a 62-61 win in the Conference 7 championship game on Feb. 21. The Cavaliers built a 17-point second-quarter lead, however, and won their second consecutive region title.
Gregorits and Alexander were named to the all-tournament team.