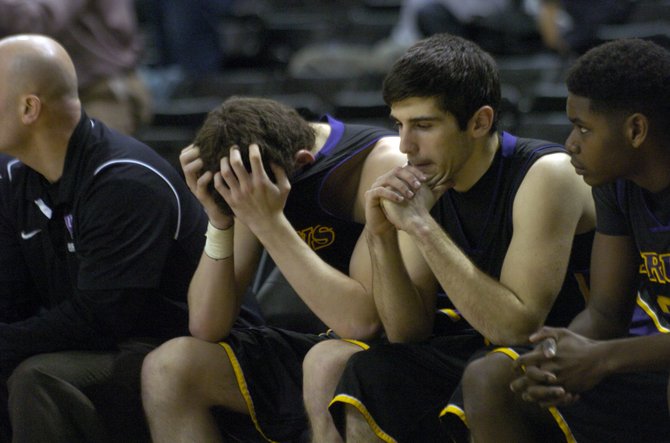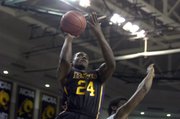 Lake Braddock's skilled big men propelled the program to new heights this season.
The Bruins reached the state tournament for the first time in program history due in large part to the strength of their frontcourt. Their bigs often created matchup problems for the opposition and made a significant impact in the paint.
On Friday night, Lake Braddock encountered a Colonial Forge team that possessed the strength and athleticism to contend with the Bruins' post players. The result for Lake Braddock: a one-and-done trip to Richmond.
The Colonial Forge boys' basketball team defeated Lake Braddock 76-67 in the 6A state semifinals at VCU's Siegel Center. After trailing by as many as 15 points in the second half, the Bruins cut the Eagles' lead to six on three occasions in the fourth quarter, but couldn't complete the comeback.
Lake Braddock missed several shots near the rim, some of which resulted in Colonial Forge fast breaks. The Eagles outrebounded the Bruins 32-25.
"It's heartbreaking, but the guys have been great. I told them after the game, all of us coaches are all ex-basketball players and we just wanted to hang around the game and they gave us the best treat we could ever have: a district championship over Woodson, then being in the regional championship and taking a trip down the to the state --- first Lake Braddock team to ever do it."

--- Lake Braddock boys' basketball coach Brian Metress
"I just thought they were a little bit more powerful tonight than we were," Lake Braddock head coach Brian Metress said. "I thought they got to balls quicker and they had some strength that we were having a little bit of trouble dealing with. … We were trying to get it in [the paint] and I thought we took some shots around the basket but every time we'd miss one of those, [zoom], they were gone. Give them credit. They got out and ran."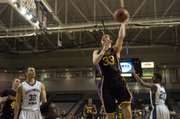 Colonial Forge held 6-foot-7 Lake Braddock forward Will Gregorits without a field goal in the first half. Gregorits scored 10 of his 13 points in the second half, including a dunk that cut the Eagles' lead to five at 43-38 with less than three minutes remaining in the third quarter. Colonial Forge responded by outscoring Lake Braddock 16-6 during the next six-plus minutes, taking its largest lead of the night when Marco Haskins knocked down a pair of free throws to give the Eagles a 59-44 advantage.
"Lake Braddock, they … have phenomenal bigs," Colonial Forge head coach Jason John said. "They play well with their back to the basket and they play three forwards. [Our team] does a heck of a job helping each other out. We always talk about helping the helper and [defending] the post and rotating over and I thought, collectively, as a team, we did that in the post extremely well tonight."
Colonial Forge's offensive attack was a collective effort, as well. Five players finished in double figures and seven scored at least eight points. Haskins, a 6-foot-4 junior guard, led the way with 15 points and six rebounds. Junior guard Jaylen Franklin shot 3-of-5 from 3-point range and finished with 13 points. Junior guard Gary Jennings, and junior forwards Winston Burgess and Isiah Williams each scored 10 points. Senior guard Damen Daniel had nine points and sophomore guard Carion Eaton added eight.
Jennings grabbed eight rebounds. Burgess, listed at 6 feet 5, blocked two shots.
"They're not the tallest guys that we've played against," Lake Braddock junior forward A.J. Alexander said, "but they're definitely the most athletic we've played against."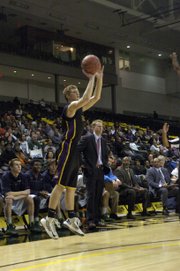 Alexander finished with 13 points, eight rebounds and two steals. James Butler, a 6-foot-6 sophomore center, had 13 points and five rebounds. Freshman guard Corey Pelham knocked down a trio of 3-pointers and finished with 10 points. Senior guard John Nice made a pair from behind the arc and totaled eight points --- all in the first quarter.
"I got some better looks in the beginning," Nice said. "[The Eagles] started to close out toward the end, so I either had to dribble or pass it off right away."
The teams were tied at 16 at the end of the first quarter. Colonial Forge led 38-28 at halftime.
Lake Braddock finished the season with a 23-5 record. The Bruins repeated as conference/district champions, beating Woodson 62-61 in the Conference 7 tournament championship game on Feb. 21. It was Lake Braddock's third victory over Woodson this season, with the wins coming by a combined eight points.
After three wins in the 6A North region tournament, Lake Braddock faced Woodson for a fourth time in the region final. This time, the Cavaliers came out on top, 66-56.
The Bruins won their first five games of the season before falling to McLean in a holiday tournament on Dec. 26, 63-57. Lake Braddock later beat McLean 73-44 in the opening round of the regional tournament on Feb. 24.
"Even when things weren't clicking in the winter tournament, we stayed strong and we kept it together and I'm really proud of that," Gregorits said. "Our guys this whole year just played great. Nothing more I can ask for."
Seniors Gregorits, Nice, Sam Fiedorek, Vince Sica and Mo Ibrahim suited up in a Lake Braddock jersey for the final time. Juniors Alexander, a Division I football recruit, and Reagan Jones, sophomore Butler, and freshmen Pelham and E.J. Johnson would be the Bruins' top returners for the 2014-15 season.
"It's heartbreaking, but the guys have been great," Metress said. "I told them after the game, all of us coaches are all ex-basketball players and we just wanted to hang around the game and they gave us the best treat we could ever have: a district championship over Woodson, then being in the regional championship and taking a trip down the to the state --- first Lake Braddock team to ever do it."