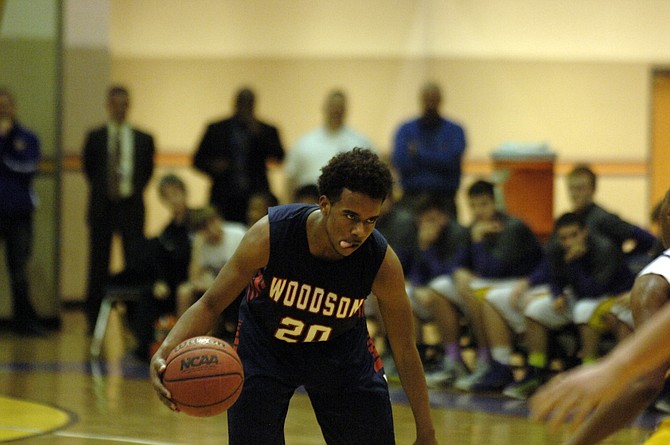 The 2012-13 Woodson boys' basketball team won a region championship with a standout sophomore point guard and a group of sharpshooting seniors.
Last year's team was relatively inexperienced, but the point guard was a year better. After losing to Lake Braddock three times by a combined eight points during the regular season, including a one-point defeat in the Conference 7 championship game, the Cavaliers bounced back and beat the Bruins by 10 in the region final.
This season, the star point guard, Eric Bowles, is back for his senior year and many of his teammates who were inexperienced last season are a year wiser.
A third consecutive region title is in the bag, right?
"I think the biggest challenge for us with this group is getting them to play consistently --- getting them to focus," head coach Doug Craig said. "They're so used to playing in big games that sometimes it's hard to get dialed in early in the year …"
The conference tournament is two weeks away. If Tuesday night's performance against Lake Braddock was any indication, Woodson is focused on the task at hand.
The Cavaliers limited the Bruins to 14 first-half points and led by double digits the entire second half en route to a 65-48 victory at Lake Braddock Secondary School.
Woodson improved to 14-5, including 8-1 in Conference 7 contests, and held an opponent under 50 points in back-to-back games.
Woodson led 12-4 at the end of the first quarter and 27-14 at halftime. Lake Braddock missed numerous shots within five feet of the basket, and finished the first half with nearly as many turnovers (10) as points (14).
The Bruins fell to 13-5, 6-3 in the conference.
"I thought our defensive effort was very good," Craig said. "That's a really good team. Lake Braddock is very well coached, good program. They do their stuff and do a good job. I just thought our kids, defensively, were really, really good."
Bowles, who is committed to Central Connecticut State, finished with 18 points and 11 rebounds. He scored 13 of Woodson's first 20 points, including a transition floater that gave the Cavaliers a 20-10 lead with 3:36 left in the opening half.
The 5-foot-11, 165-pound Bowles is averaging 5 rebounds per game.
"I think that's one his great qualities is he's not afraid to go into the physical areas of the floor and get the job done," Craig said. "He's always been a good rebounder for a point guard."
Bowles said he notices a difference in the Woodson players who now have a year of experience under their belts.
"I feel like on this team, a lot of our players are more confident because they've been on the varsity level," Bowles said. "It's not like it's something new to them."
Junior guard Matt Ayoub, who is in his second season with Woodson after transferring from Paul VI, also scored 18 points, including a trio of 3-pointers. Ayoub did not start due to a violation of team rules and scored just two points in the first half. But the sharpshooter came alive in the second half, adding 16 points, including several quick-release perimeter shots.
After a three-point play by 6-foot-8 Lake Braddock junior James Butler cut the Woodson lead to 51-41 with 3:55 left in the fourth quarter, Ayoub responded with a 3-pointer that sparked a 9-2 run.
"Our chemistry is a lot better," Ayoub said. "We know each other well. In the game, we know exactly where to be."
Woodson senior Tyler Wilson finished with eight points, including a first-quarter dunk. Junior guard Seamus Maloney made a pair of 3-pionters and had six points.
Woodson played without senior guard Trey Johnson, who is averaging 13.4 points and 4.9 rebounds per game. Craig said Johnson does not meet VHSL eligibility standards.
Butler led Lake Braddock with 24 points. Reagan Jones and Peyton Bishop each had eight.
Woodson has won six in a row and seven of its last eight. The Cavaliers will host West Potomac at 7:30 p.m. on Friday.
"It's a really nice win, but it's early February," Craig said. "We want to be the best team in late February and hopefully March if we can get that far."
Will the Cavaliers maintain their focus?
"We have a target on our back," Bowles said. "Whoever we play … we just have to make sure we come out and give it our all."