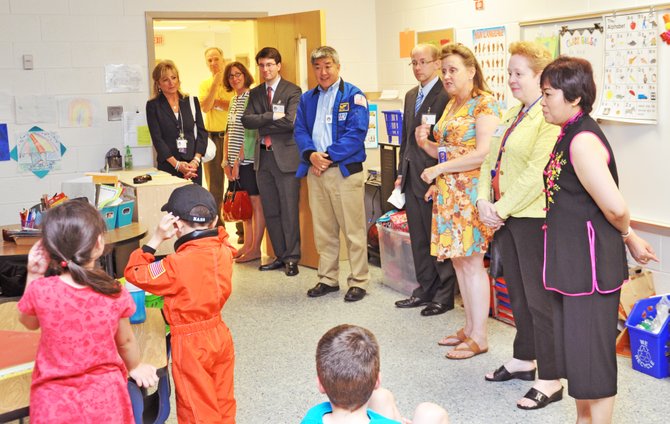 NASA came to Colvin Run Elementary in Vienna on June 17. Students got a real hands-on STEM (science, technology, engineering, and math) experience by linking directly with the NASA international space station. Part of the school's newly created STEM lab program at Colvin, lab students prepared questions for the astronauts in advance. They got to pose the questions to astronauts Steve Swanson and Reid Wiseman, currently orbiting Earth aboard the International Space Station.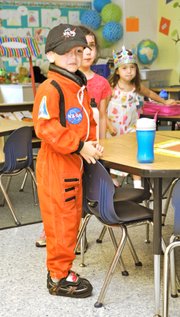 Some of the questions had surprising answers. One student was curious about how birthdays are celebrated in space. Swanson and Wiseman went on to explain that since they didn't have the option to go out and get presents, they focus on a favorite meal instead.
Elementary students were also surprised to hear about the plants both astronauts have grown in the space station, including lettuce and onions. Another participant asked them how long it takes to go back to adjust once they land. The astronauts told the audience that the adjustment period varied anytime between fifteen minutes to a few days.
In addition to the ones orbiting the earth, Colvin Run was also treated to meeting another astronaut in person: Dan Tani, a local resident who gave a brief presentation and introduced the current astronauts to the audience. His presentation included several pictures taken from the space station including shots of the northern lights, lightning storms, and erosion patterns that delighted the audience. He described the sight of the northern lights from above looking "like a ghost flying below you." Prior to attending the NASA link event, Tani also took time out to visit the STEM lab and answer some questions as well, including "what is a spacewalk," "were you nervous," and "do you have fun up in space?"
The NASA link was broadcast on the NASA television station and many other Fairfax County public schools. NASA is an education partner with Colvin Run Elementary and the event was part of NASA's Teaching From Space curriculum, which promotes learning opportunities through NASA's human spaceflight program. For more information visit http://www.nasa.gov/education.