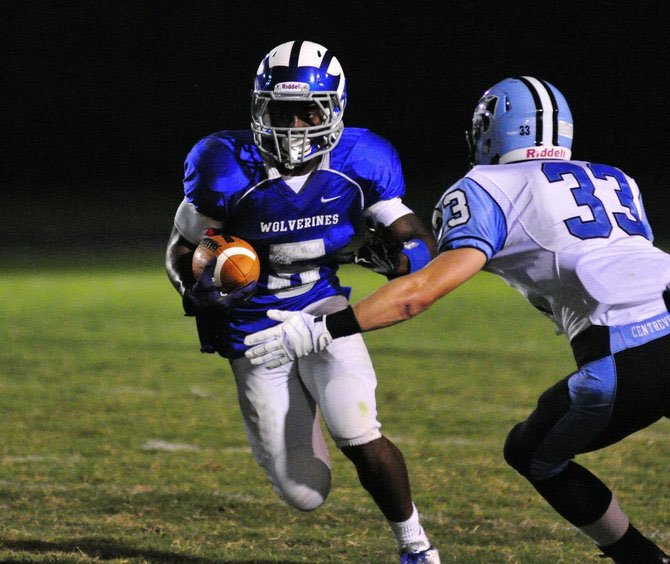 Q and A
During his four years as a member of the West Potomac varsity football team, DeMornay Pierson-El helped the Wolverines capture a share of the 2011 Patriot District championship as a sophomore receiver, led the team to a playoff berth as a junior running back in 2012, and kept West Potomac competitive as a senior quarterback in 2013. He also played defensive back and returned kicks along the way. As a senior, he earned second-team all-state honors as a defensive utility player.
No matter where Pierson-El lined up, he was a threat to score when he touched the ball. The recent West Potomac High School graduate will test his talents at the Division I level as a slot receiver and kick returner for the University of Nebraska.
Pierson-El recently participated in a Q and A via email with The Gazette.
Q: What made Nebraska the right fit for you?
Pierson-El: The atmosphere, the people that help you on and off the field, and how the coaches will use me all over the field.
Q: You played for two head coaches at West Potomac. Your friend and UNC quarterback Caleb Henderson transferred to Lake Braddock after your sophomore seasons. You played multiple positions. What was it like dealing with so much change?
Pierson-El: I kind of became used to it, I guess you can say. I never let it take my focus from the bigger picture or let it affect my game. Things had to be done and in life you had to adjust, so it was just a part of growing up. Whatever was my task, I made sure it was done -- didn't matter if it was from either coach. Whatever needed to be done, I had to do it.
Q: Which position was your favorite to play?
Pierson-El: I have two favorite positions I like to play: DB and WR.
Q: What is your favorite memory of playing high school football?
Pierson-El: My favorite memories of high school were practicing with friends and winning the districts sophomore year. Just walking on the field with my band of brothers every Friday night to do the thing we love most.
Q: If you could go back and change one thing about your high school athletic career, what would it be?
Pierson-El: If I could go back and change one thing, I would have worked harder to make the [Washington Post] All-Met team.
Q: What are you most looking forward to about the transition from high school to college?
Pierson-El: Playing the best of the best is what I'm looking for, and performing on a big stage.
Q: Who is your favorite music artist? Why?
Pierson-El: My favorite music artist is Tupac. I just like his music a lot.
Q: What is your favorite movie? Why?
Pierson-El: My favorite movie is "Space Jam." I like Michael Jordan and the Looney Tunes.
Q: What is your favorite food?
Pierson-El: My favorite food is my mom's chicken. Nothing's better than your mother's cooking.
Q: What is your favorite hobby outside of football?
Pierson-El: My favorite hobby is probably basketball.
Q: What location is the farthest you have traveled from the Washington, D.C. metro area?
Pierson-El: The farthest I've traveled from D.C. is Las Vegas a few summers ago.
Q: Did you follow the World Cup? If so, for which team(s) did you cheer?
Pierson-El: No, not really. It was on a lot around campus, but if I had to pick a team, I'd pick U.S.A.
— Jon Roetman