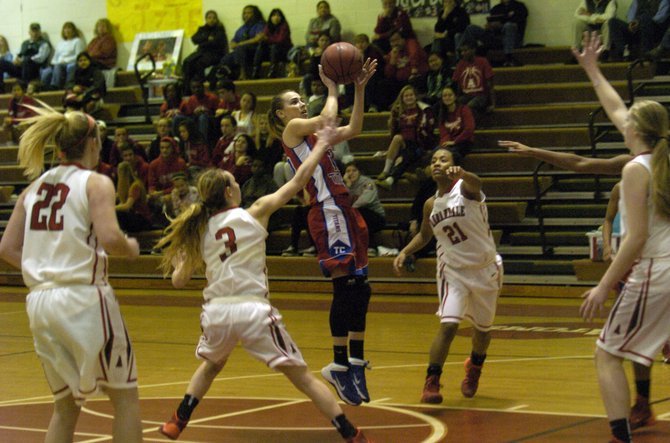 Angie Schedler, a 2014 T.C. Williams High School graduate, was a four-year member of the school's varsity girls' basketball team. For two of those seasons, Schedler was teammates with her older sister, Sofie.
In 2011 and 2012, the Schedler sisters helped the Titans reach the Patriot District championship game, only to lose to West Springfield each time. In 2013, with Sofie Schedler having graduated and playing for Susquehanna University, Angie Schedler, then a junior, and the Titans finally got over the hump, winning the district title.
Angie Schedler, one of T.C. Williams' top perimeter shooters, knocked down four 3-pointers in the 2013 district final against Woodson. The following season, Schedler and the Titans returned to the district/conference championship game for the fourth straight season, but fell short against West Springfield.
With her high school career having ended, Angie Schedler, an all-district and all-region performer as a T.C. Williams guard, will join Sofie as a member of the Susquehanna women's basketball team. Angie Schedler recently participated in a Q&A via email with the Gazette Packet.
*Gazette Packet: What made Susquehanna University the right fit for you?
Schedler: At first when I thought about where I wanted to be in college, Susquehanna was the exact opposite of almost everything I wanted. The more I visited my older sister, the more I loved the school and its atmosphere.
*Gazette Packet: How much did getting the chance to play with your sister influence your decision?
Schedler: Playing with Sofie had a minimal influence on my decision. It was more like a bonus. I love playing with her and it just makes my choice of Susquehanna even more perfect for me.
*Gazette Packet: At what age did you start playing basketball? When did you realize playing college basketball was a possibility for you?
Schedler: I started playing when I was 5. I realized college basketball was a possibility for me once I started to receive Division I letters my freshman year.
*Gazette Packet: What is your favorite memory of playing high school basketball?
Schedler: Winning districts my junior year will always be my favorite memory while playing for TC.
*Gazette Packet: If you could change one thing about your high school athletic career, what would it be?
Schedler: If I could change one thing about my high school athletic career it would be for me to have stepped out of my comfort zone more. To push myself a little bit harder every day.
*Gazette Packet: What is your career-high for 3-pointers in a game at any age?
Schedler: My career-high for 3-pointers is 9 3's in a game.
*Gazette Packet: What kind of traits, physical or mental, does it take to be a good perimeter shooter?
Schedler: You can't give up. You have to be mentally strong because not every game will your shot be on from the jump. You have to remember to keep shooting because you know that's one of your biggest roles as a teammate when it comes down to it.
*Gazette Packet: Who is your favorite music artist?
Schedler: Beyoncé, definitely.
*Gazette Packet: What is your favorite movie?
Schedler: 'Pitch Perfect' is my favorite because of the music in it.
*Gazette Packet: What location is the farthest you have traveled from the Washington, D.C. metro area?
Schedler: I was born in Vienna, Austria, so that's the farthest I've been from home.
*Gazette Packet: Are you a pro sports fan? If so, who are your favorite teams?
Schedler: Yes, I love the Wizards.