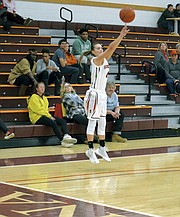 Angie Schedler is no stranger to knocking down 3-point shots. The 2014 T.C. Williams graduate was a perimeter sharpshooter and four-year varsity player for the school's girls' basketball team, and helped the Titans win the 2013 Patriot District championship.
Now a college sophomore, Schedler's display from behind the arc on Jan. 9 put her name in the Susquehanna University record book.
Schedler set a school record by making seven 3-pointers in a single game. She knocked down 7 of 8 attempts against United States Merchant Marine Academy during an 86-39 victory. She finished with 31 points.
"I actually was feeling sick before the game," Schedler wrote in an email. "It was a game we were expecting to win and after my first two 3s in the first couple of minutes is when I started to feel like I was going to have a good game. ... I just got good looks. No forced shots, just what felt right."
Schedler said she believes she made more than seven 3-pointers during an AAU game. Her college career high for points in a game is 33 against Lycoming College.
"It feels pretty good," Schedler wrote about setting a school record. "I'm hoping that sometime in my next years here that I can come across the opportunity again."
Schedler's sister, Sofie, a 2012 T.C. Williams graduate, is a senior for Susquehanna and finished with a team­high eight assists against USMMA.
"It has been a lot of fun this year," Angie Schedler wrote. "We still read each other very well while we play and it's only improving the more we play together."
The win over USMMA improved Susquehanna's record to 9-4. The Crusaders will travel to face Drew University at 4 p.m. on Saturday.
"This season," Schedler wrote, "the only goal I'm worried about is winning the [Landmark Conference] championship."