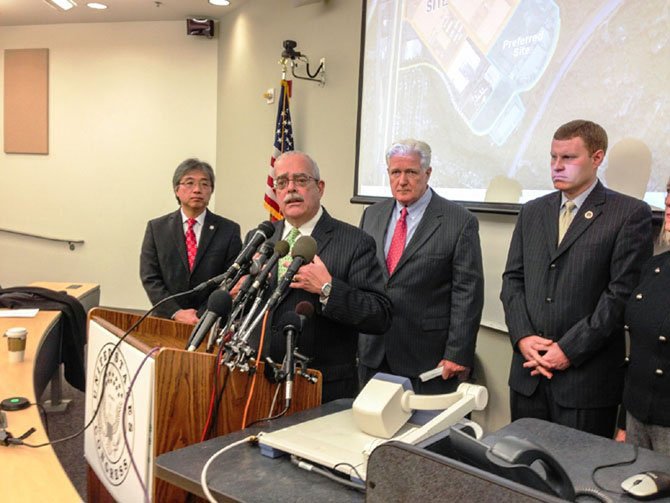 Springfield could very well be the next site of the FBI headquarters.
The General Services Administration and FBI announced Tuesday that Springfield was included on the shortlist for the new FBI headquarters.
"We are very pleased that the Springfield Warehouse in Fairfax County has made the short list for the new FBI headquarters. The project would help spur redevelopment in that area and because it is federally owned, this site is a lower cost option for the FBI. Virginia is unified behind this site and we feel it is the best of the three," said Sharon Bulova, chairman of the Fairfax County Board of Supervisors.

Greenbelt and Landover in Maryland are also included on the list for the new headquarters, which would replace the current J. Edgar Hoover building. The Springfield location is located at the GSA Franconia Warehouse Complex near Interstate 95 and Franconia Road.
"I'm very pleased that the GSA recognized the merits of our Springfield site. With extensive transit options, access to almost every major highway in the region, and close proximity to Quantico and Washington, D.C., the Springfield site remains the best option to serve the FBI's needs," Supervisor Jeff McKay (D- Lee District) said in a statement. "I hope this process continues to be one based on merit and good use of taxpayer funds and not political considerations. All of Virginia will continue to unite behind just one site: Springfield. We will re-double our effort moving forward to promote Springfield's attributes."
National Environmental Policy Act reviews will be conducted at all locations.
"We are pleased that the GSA warehouse site in Springfield is on the short list for the FBI headquarters relocation. All the sites named today have advantages, but we believe the Springfield site best meets the criteria laid out for the FBI. Our main hope is that the FBI has a location that best allows the bureau and its employees to fulfill their important mission in the most productive and efficient manner possible," said Gerald Gordon, president of the Fairfax County Economic Development Authority.
Public comment will also be available on the plan. Virginia governor Terry McAuliffe announced Tuesday that he believes Springfield is the best option for the FBI.
"Virginia's inclusion on the final list of prospective sites for the new FBI headquarters is unquestionably positive news for our Commonwealth and economy. There is no doubt that the Springfield location offers the FBI and its employees the best combination of location, access to mass transit and local amenities. I look forward to continuing to work with Virginia's congressional delegation to convince decision makers within the FBI that Virginia is the location for this headquarters and the thousands of jobs that come with it," McAuliffe said in a statement.