In the realm of high-school theater, the annual Cappie awards are akin to professional theater's Tony awards. And Robinson Secondary School received six Cappie nominations for its production of the musical comedy, "Curtains."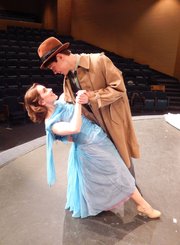 The winners will be announced June 8 at the 15th annual Cappies Gala at The Kennedy Center in Washington, D.C. Robinson's nominations are as follows:
Special Effects/Technology: Lindsey Rubin, Naod Haddish.
Orchestra: The Kansasland Band.
Male Dancer: Elijah King.
Supporting Actress in a Musical: Hannah Sikora.
Supporting Actor in a Musical: Jamie Green.
Lead Actor in a Musical: Spencer Boyd.
"I am tremendously proud of my students who were nominated for Cappie awards," said Director Chip Rome. "The entire cast and crew worked really hard on the show, and it came out just great. I'm thrilled that our orchestra was nominated for only the second time; it's a great pat on the back to our new conductor, Eric Hoang, and his pit musicians."
"Having a show with 'flying' in it is always a great adventure – one that must be taken very seriously to keep everyone safe," continued Rome. "So it was gratifying to have their work recognized in the Special Effects category." Regarding the dance nomination, he said it's difficult to find male dancers among high-school students, so he was "delighted [that] we were able to showcase the skills of Elijah King."
Additionally, he said, "Our cast includes some really talented leads who were nominated and really put the comedy in musical comedy. Hannah Sikora, who led us to our Cappies win last year for 'Hairspray' has been nominated for Supporting Actress in a Musical, this time playing the tough-minded stage, mother/producer of the play-within-a-play. Hannah has great stage presence, so she really fits the role of Carmen, who owns the stage every time she steps on it, both figuratively and – since she's the producer – literally."
Noting that Jamie Green previously portrayed the "wimpy, wannabe-famous" Seymour in "Little Shop of Horrors," Rome said he "really shone as the egotistical, famous, theater director Christopher Belling. Jamie has a pitch-perfect sense of comic timing and never shies away from strong character choices – and he had the audience eating out of the palm of his hand in scene after scene."
However, Rome said that show really belongs to Detective Cioffi. "It's a huge role, and Spencer Boyd really expanded his range with this tour de force, balancing between capable, serious detective and the effervescent theatre lover who wants to save the show," said Rome.
Complicating matters, Cioffi falls in love with Maddy Ingram's Nikki, one of the understudies. "Spencer's joyful enthusiasm was clearly contagious, and I just loved the chemistry between him and Maddy," said Rome. "He was great to work with, totally reliable and both a responsive and creative actor."
"In my humble opinion, they all deserve to win," he continued. "But however it comes out on June 8, we know we were successful giving our audience a theater production of which our entire cast, crew and musicians can be proud."