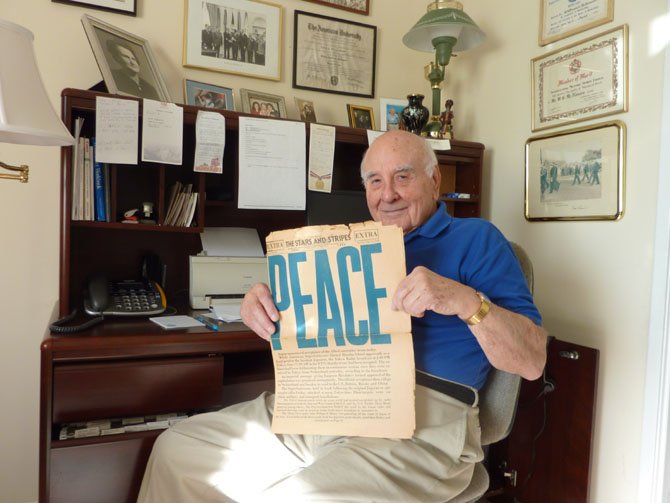 Photo Gallery
D-Day 70th
Click Photo for Flash
Bill McNamara was only 15 years old when he joined the National Guard in 1936. By the time he was 23, he was the youngest major in Europe, working for the Stars and Stripes newspaper and leading a six-man detachment across Omaha Beach on D-Day in 1944.
"What I saw that day was unbelievable," said McNamara, a longtime Alexandria resident who recently celebrated his 93rd birthday. "It was scary going into the unknown. We weren't expected to come out alive."
For McNamara and other World War II veterans, June 6, 1944 — D-Day — will never be forgotten. On that day, 150,000 Allied troops landed along a 50-mile stretch of heavily-fortified French coastline to fight Nazi Germany on the beaches of Normandy, France. The landings marked a turning point in WWII that changed the course of history.
McNamara and his men survived the initial invasion, which killed or wounded more than 9,000 Allied troops, but it took another week to file their first reports on the battle. McNamara's mission was to bring news of the war and home front to U.S. troops.
"We had arranged ahead of time for our offices in London to print a special edition called the Beachhead Bulletin for us," McNamara said. "Gen. [Omar] Bradley let me use his phone to make one call a day to London to get the news out on what was happening."
Code-named Operation Neptune, the D-Day attacks were launched by Gen. Dwight D. Eisenhower, who called the operation a crusade in which "we will accept nothing less than full victory." More than 5,000 ships and 11,000 aircraft supported what would be the largest amphibious invasion to ever take place.
"My only order from Eisenhower was to get the newspaper to the frontline troops no more than three days late," McNamara recalled. "How we did it was up to us."
The Battle of Normandy would continue throughout the summer and McNamara and his team moved from France into Germany. It was there that he established the first German edition of the Stars and Stripes.
Working from a brewery in Pfungstadt, Germany, McNamara wrote in that first edition: "This is the first edition of Stars and Stripes to be published in Germany, in this and any other war. This edition won't be good. We are short of materials, we haven't yet liberated an engraving plant and, damn it, we can't find the Mauldin cartoons."
As acting publisher, McNamara helped establish six later editions of Stars and Stripes and by VE-Day was publishing over 500,000 copies daily.
"We were one of the largest newspapers in the world," said McNamara, who retired from active duty as a lieutenant colonel in 1958.
As the nation prepares to commemorate the 70th anniversary of D-Day, McNamara recalls what is was like to be an eyewitness to such a critical part of history.
"You've got landing craft that were blowing up and some of the tanks were sinking even as they were being unloaded. There was wreckage everywhere," McNamara said. "It was chaotic. Nobody was sure what the hell was going on. Nobody knew whether we were winning or losing, or what."
But McNamara, a member of American Legion post 24 in Old Town for more than 50 years, said that "everyone was starved for news" during that time.
"Gen. Bradley made the comment that the Stars and Stripes in those early days was one of the most valuable contributions to troop morale because the men didn't know if they were winning or losing," he said. "But it's important to remember and record what those who served have gone through."