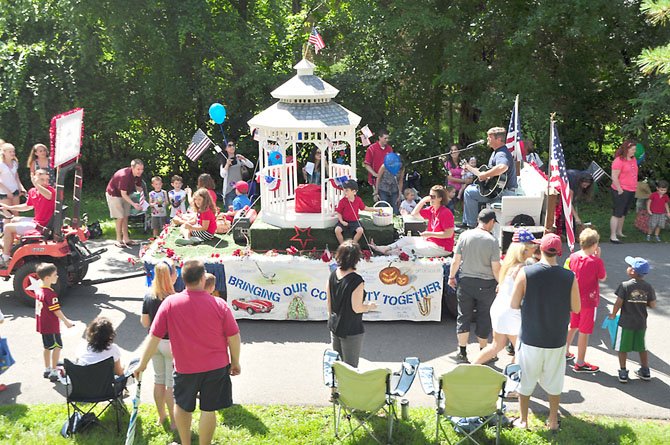 The 4th of July Hometown Celebration and Parade in Great Falls will be held on Friday, July 4 at Great Falls Village Centre. Celebrate Great Falls Foundation has announced a dawn-to-dusk schedule that includes:
*8 a.m . -- 5K Walk/Run -- Great Falls Freedom Memorial
The Great Falls Trailblazers are bringing the Annual 5K Walk/Run to local trails. Join the participants at the Freedom Memorial on the Library grounds. From there, go off-road on the Lucy Hanes Trail, along Arnon Chapel and past Great Falls Elementary before heading back to the Freedom Memorial. Register that morning.


*8 a.m. to 1:30 p.m. -- INOVA Blood Drive -- Great Falls Volunteer Fire Department
The Great Save Lives, Give Blood. Everyone who completes the donor screening procedure will receive a free Donor T-shirt. Photo ID required. Allow 1 hour for donor visit. Call 866-256-6372 to schedule your appointment today.

*9 a.m. -- Little Patriot Parade -- Village Centre Green (at the Gazebo)
Babies and Toddlers up to age 5 are welcome to parade their finest patriotic display around the Green. Awards for "Young George Washington," Little Miss Betsy Ross," and "The Star Spangled Family." 9 a.m. Registration at the Gazebo -- 9:15 a.m. Little Patriot Parade start.
*10 a.m. -- Main Parade -- Great Falls Village Centre
See the floats, horses, antique cars and pets making a loop in the Main Parade. Be sure to spot the winning floats for Best Neighborhood, Best Business and Best Organization.
Starts on Columbine Road and proceeds around the Village Centre Green.
*10:30 a.m. to 12:30 p.m. -- Festivities, Food & Fun -- Village Centre Green
After the parade, enjoy burgers, dogs and snowcones along with music, field games and festivities on the Village Centre Green with your Great Falls neighbors. There will be no Fireworks this year.