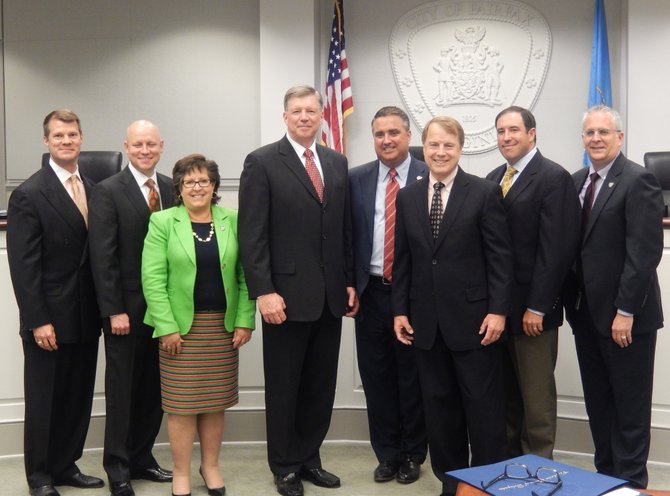 Rick Rappoport finished one job and began another without missing a beat.
On May 12, he became deputy chief of Amtrak's Mid-Atlantic region, after retiring May 9 from the City of Fairfax Police Department as its chief for the past 13-1/2 years. Deputy Police Chief Carl Pardiny is now the acting police chief.
Rappoport, 60, spent 24-1/2 years with Fairfax County's police department, retiring as deputy chief for administration, before joining the City. "It was a very good police department, with a great reputation, when I came in," he said.
And, said Rappoport, "It's been a great opportunity to be part of and serve a community. In some ways, it was like coming back to my roots as a district commander with a small population that you can get to know and can get to know you."
He said the two toughest challenges the department faced during the past eight years were the economy and staffing. "Simultaneously, there was a financial recession and we were entering a period of the largest turnover ever, because of retirements," he explained. "So we were trying to replace a significant portion of our workforce in the midst of a recession."
So Rappoport worked with the city manager and City Council to do so. "They approved some additional positions, plus money for training them," he said. "And it's paid off huge dividends with a team that's well-prepared to lead and deliver police services."
THE DEPARTMENT now has 67 officers and about 24 civilians. "Over half of our people now have less than five years' experience in the department," said Rappoport. "But they're doing an outstanding job in terms of our crime rate, success rate in apprehensions, closing investigations and their day-to-day interaction with the public. And I could not be more proud of what they've accomplished."
He's also pleased that the police began the Volunteers in Police Service program, "allowing us to bring in dozens and dozens of citizens to work alongside our officers," he said. "They do thousands of hours of service, and we build a valuable relationship between the police and members of the community."
"We also started a Citizens Police Academy to teach who we are and what we do, over 10 weeks," continued Rappoport. "They learn it hands-on, and it's become so popular and successful that many of them become volunteers."
He said a huge City accomplishment was constructing the new police station in 2007. And, said Rappoport, "It took 18 months of making the case to the public for a bond referendum to build it and expand City Hall. It's about 30,000 square feet, and this building gave us the ability to have those kinds of programs and services and to attract quality people to work here. Working with the City Council and city manager to get this project done was a great accomplishment."
The most challenging part of his job, he said, was "to discern the right balance between the community's desire for a particular level of police services and their cost. We work really hard to provide the best services for the dollars we take out of a citizen's pocket, so it's a constant struggle."
Rappoport's greatest satisfaction was "the relationship with the people," he said. "I worked for a great bunch of people – city manager, Council and mayor, plus the people I worked with here at the station. Every day, I heard success stories, and that made it good to come to work."
He was gratified, as well, by the support and appreciation the community gives to the officers. So, he said, "I stayed so long because I enjoyed being here. That's why it was a difficult decision to leave. But it's a really great opportunity to work with Amtrak Police Chief Polly Hanson. I've known her professionally 20 years and always admired her abilities."
When his new position came open, said Rappoport, "I saw a chance to do different policing than I'd done in the past. It's policing on a national level and policing a vital part of our infrastructure, since one of terrorists' targets worldwide is passenger train travel. So it's an exciting opportunity."
Still, he said, the hardest part of leaving his position as Fairfax's top cop is "leaving the people within the Police Department – both full-time employees and volunteers – and my fellow department heads and City staff. They're a fantastic group of people."
Rappoport also enjoyed the relationship he had with his colleagues in the region. "There's a level of cooperation and collaboration in the Washington Metropolitan area that doesn't exist in many other areas of the country," he said. "And I'm going to miss that collegiality around solving difficult problems."
THE NEXT FAIRFAX POLICE CHIEF will be selected by the city manager and approved by City Council. Meanwhile, Mayor Scott Silverthorne was sorry to lose Rappoport. "He really transformed and modernized the Police Department with a new headquarters, technology, forensics capabilities and mobile data technology for the cruisers," said Silverthorne. "He was equally at ease dealing with the men and women in uniform, as well as with the governing body – and equally respected by both."
But Rappoport, the longest-tenured police chief in the City's history, says the Police Department's in good hands. "I've been honored to serve as the chief," he said. "I couldn't be more proud of the people I've had the pleasure to work with and the support I've received from a great community. There's a great team here prepared to lead this department; the next generation of leaders is ready."
At a May 13 reception at City Hall honoring Rappoport, police Sgt. Joe Trahey called him a great administrator. "He's going to be missed, and I wish him luck in his new job," said Trahey. "Amtrak's lucky to have him."
Assistant Fire Chief Andrew Wilson said it's been a pleasure working with Rappoport. "I'm the fire marshal, so we worked with each other a lot," he said. "He's fair, considers the issues and is professional."
Silverthorne gave Rappoport a framed plaque of the police station. "You've built a tremendous department with great credibility," said the mayor. "Because of your service, we're better off and, most of all, we're safe."