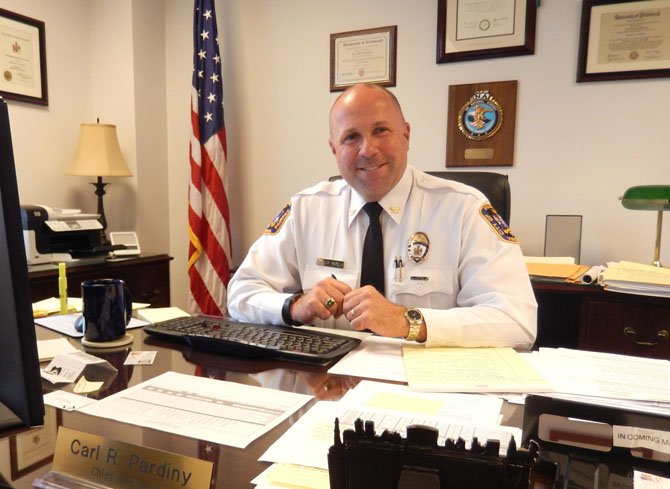 Col. Carl Pardiny was born and raised in Pittsburgh, but has spent nearly his entire, adult life with the City of Fairfax Police Department. He started its K-9 and Bike Patrol programs and was twice selected as the Department's Officer of the Year.
So it was no wonder that he was recently selected to become its chief, replacing Rick Rappoport, who's now a deputy chief with Amtrak. But in his younger days, Pardiny also considered a career in firefighting.
"Through high school and college, I volunteered as an EMT with the fire department," he said. "But I met many local police officers, too, and I admired the old guys with hash marks up their sleeves. And instead of waiting in my bunk at the fire station for something to happen, I decided I'd rather be out on the street doing something."
Then his father-in-law found an ad in a Pittsburgh newspaper for a police officer in Fairfax, so Pardiny headed to Virginia. By November 1988, he was hired by Chief Lloyd Smith and, said Pardiny, "I was the happiest guy in the world."
He began as a patrol officer and, in the early 1990s, started the City's first community Bike Patrol Program. "I loved it," he said. "It was very rewarding; I got to know the community and speak with business owners and residents and find out their concerns.
"I also met the kids, since a bicycle made police officers more approachable," continued Pardiny. "I also explored the bike paths and every alley in the City and made numerous arrests for narcotics and DWI. So it was a great mix of community outreach and policing."
He initiated the K-9 program in 1996, working with its first K-9, Doni – whose portrait hangs inside the police station. "He had a special talent for tracking," said Pardiny. "Around 1997, in the City's Cobbdale section, we got a report of an armed burglar who broke into a man's home and held him at knifepoint. He was asleep on the couch and woke up to find the guy standing over him with a knife. He screamed and the guy fled, leaving some of the stolen items in the front yard."
K-9 was called in, so Pardiny and Doni responded. "It was a torrential downpour, but we stayed on the track," said Pardiny. "We searched a couple hours, and Doni and I found him – with the knife still on him – in a child's treehouse, a few blocks away."
Pardiny also served as a field training officer, firearms instructor and evidence technician. And, he added, "I also enjoyed being on the Emergency Services [SWAT] team, responding to critical situations. Thankfully, we don't have lots of those incidents here, but we spent a lot of time training for emergency situations."
IN THE LATE 1990S, he decided to seriously compete for a supervisory position, so he took a statistics course at GMU because he knew he'd need it for a master's degree. "Once I earned my master's, the whole world opened up to me," said Pardiny. "I tested for sergeant and made it in October 2001."
In that position, he said, "I concentrated on growing great employees and enjoying being a first-line supervisor. I focused on their skills and talents, mentoring the younger officers." He later became a lieutenant in 2004, supervising day and midnight patrol shifts.
Promoted to captain in 2006, he was the commander of Professional Standards and Internal Affairs. "There was a tremendous amount of work involved in policy development and research to meet accreditation standards, plus overseeing training," said Pardiny.
And in the Administrative Services Division, he said, "We transitioned into providing wireless technology to not only upgrade our communications systems in our cars, but to our emergency communications center – which provided us with offsite backup should something catastrophic happen here at the police station. I had a great team working with me on that, including Lt. Matt Duckett."
Pardiny was later promoted to major, serving as Fairfax's deputy police chief – and eventually, acting chief – from July 2011 until this July, when he was promoted to colonel and became the City's chief of police.
"Carl has faithfully served the City for over two decades and rose through the ranks based on performance, savvy and solid credentials," said Mayor Scott Silverthorne. "I predict he'll be an effective and popular chief with his officers and throughout the community."
As for Pardiny, he was "humbled, honored, elated and very proud to be promoted to this level. I'm so excited about the challenges and opportunities we have ahead of us. We have a tremendous legacy of service to the community to uphold."
Acknowledging the previous chiefs' work, Pardiny said, "I've got some big shoes to fill. But we have a great team here, with wonderful volunteers, civilian staff and 69 sworn officers. When the chips are down, people come together as a real, working team."
And he's no slouch, himself. He was named City of Fairfax Police Officer of the Year in 1998 and 2001 and also received the Bronze Medal of Valor in 2001. He received the Department's Distinguished Action Award in 2003 and Distinguished Service Award in 2014. But he's not in it for the acclaim.
"I've had some great experiences," said Pardiny. "To love what you're doing for 25 years, accomplish what I have and be able to serve in this capacity is like a dream come true."
"We turn out a tremendous amount of 30-year employees here because it's such a wonderful community to work in," he continued. "We're proud of our city and there's pride in knowing we're providing excellent services and are well-respected by community groups, residents and business owners."
PARDINY likened Fairfax's police department to a small town in a big metropolis. But at the same time, he said, "We're very advanced and have a great building and great opportunities for training and advancement. And now I can facilitate providing our officers with the resources, expertise and training to do the jobs I used to do – and that's so rewarding."
As the City's demographics change, he wants his officers to be well-prepared to meet the high standards the residents expect from them. "People from different cultures, professors, college students and well-educated professionals live here," said Pardiny. "There's also an increasing senior-citizen community. And providing them all services – and letting them know we're there for them – is an important part of our job."
Currently, vandalisms and larcenies here are declining, while fraud against the elderly is rising. "It's a huge concern – phone and money-card fraud and people using technology to scam others," said Pardiny. "It's our job to deter these crimes and, when they happen, to work like heck to find the bad guys and bring them to justice."
Since several officers retired recently, 11 others were promoted and more will happen in November. "It lets me select the best people and put them in the best positions," said Pardiny. "Then I have to fill their old jobs. So there's a new energy in the Police Department and people are excited about the opportunities they're going to have. We pride ourselves on having a great work environment."
Personally, his greatest joys are his wife and two daughters. He also enjoys biking, hiking and fishing. Professionally, his satisfaction will come from "eventually growing the next generation of commanders, deputy chiefs and the next chief to fill my position – if I ever decide to retire. I'd like to leave this place a little better than when I started. We have quality officers and it's nice really being part of the community. I hit the ground running – and I love it."