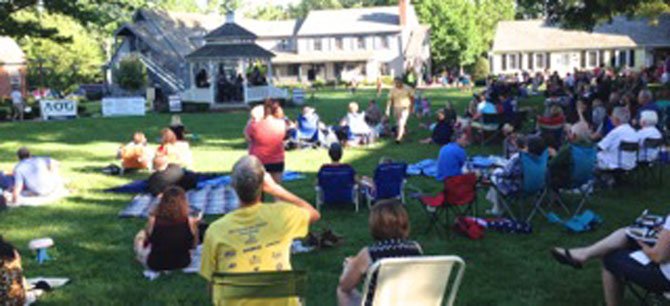 On Sunday afternoon, a crowd gathered on the Great Falls Centre Green to enjoy the summer sunshine and the bluesy jazz stylings of GRAMMY winner Daryl Davis.
Davis, a graduate of Howard University, is also an accomplished author, best known for his 1997 book "Klan-Destine Relationships: A Black Man's Odyssey in the Ku Klux Klan." He's also an actor, having appeared on stage in area productions as well as on television programs such as "The Wire and Roseanne."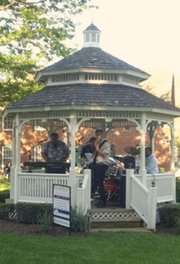 Rounding out his list of talents, according to his website, are judo, karate and speaking French. Singing a mix of blues, rockabilly and country, he kept the crowd of Great Falls locals well entertained during his two-hour performance.
The event, part of the town's Concerts on the Green series, was sponsored by Celebrate Great Falls, an organization dedicated to coordinating events that bring the town together and keep traditions such as the concert series alive. The organization also donates funds to local schools and projects that benefit the community.
"Great Falls is such a special place to live," Celebrate Great Falls director Erin Lobato said. Lobato, who moved to the area in October of 2012, says she was "pleasantly surprised how welcoming and warm [the community was]."
The concert series, which began June 1 and continues every Sunday 'til Aug. 17, drew quite the crowd for Davis's show last week. Families took advantage of the summer sun and dined on picnic dinners while the more athletically inclined concertgoers played football and Frisbee in the back of the green.
Great Falls resident Nora Lee Brown credits the series with helping to maintain Great Falls's "family oriented, small-town feeling." Brown has been attending the concerts "since they started. I go whenever I can. I really appreciate [what it does for the community]."
Janice Thrush, another local concertgoer, echoes Brown, calling Great Falls "a friendly community," and a great place to live.
The free concerts, which go from 6 to 8 p.m. every Sunday, often feature local artists, many of whom have performed there in the past. This year, Lobato says, the schedule features only two new artists. Upcoming performers include rockabilly group Four Star Combo, cover band the remedy and blues guitarist Tom Principato.
All of the series' corporate sponsors are local, too –– businesses like John Nugent & Sons, The Old Brogue and Great Falls Auto Service help to keep this community's tradition going.