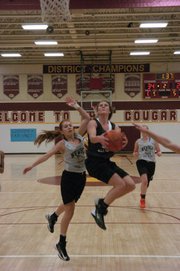 McLean senior guard Cami Prock "took a couple emotional days off" following the Highlanders' season-ending loss to T.C. Williams in the opening round of the 6A North regional tournament on Feb. 24.
Following her decompression session, Prock returned to the gym to work on her game. While her time with the McLean girls' basketball team was over, Prock's hard work paid off a month down the road with a strong performance in Sunday's 10th Suburban Classic all-star game at Oakton High School.
As a member of the East all-stars, Prock scored a team-high 12 points and earned team MVP honors as the East defeated the West 78-64 on March 23.
THE SUBURBAN CLASSIC featured some of the top seniors from the 6A North and 5A North regions. The Northern Virginia Women's Basketball Coaches Association sponsored the event and helped raise scholarship money for athletes.
The East all-stars, coached by Edison's Dianne Lewis, led the West squad, coached by Madison's Kirsten Stone, 34-30 late in the second quarter. Prock helped the East pull away, though, scoring six points in the final 90 seconds of the first half as the team built a 41-30 halftime advantage.
Prock agreed that the environment was a combination of competitiveness and enjoyment.
"It was definitely a great mixture of both," she said. "I know when I'm competing and having fun at the same time, it's a great feeling."
Prock will attend the College of William & Mary next year and is debating whether to attempt to join the university's basketball team as a walk on.
South Lakes guard Caitlin Jensen, a member of the West all-stars, was another athlete who didn't take long to return to the gym after her high school season had ended. Jensen said she went back to work the following day after the Seahawks lost to Centreville in the regional quarterfinals on Feb. 25.
"It was definitely a great mixture of both. I know when I'm competing and having fun at the same time, it's a great feeling."

— McLean senior Cami Prock
On Sunday, Jensen led all scorers with 22 points, including four 3-pointers.
"I've been working really hard since the season ended," Jensen said. "It's a great feeling."
Jensen will continue her basketball career next season at the University of Mary Washington. On this afternoon, she got to play once again with South Lakes teammate Abby Rendle, and with girls she had competed against during her high school career.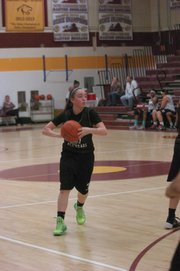 "It was a good experience," Jensen said. "It was nice because I've played against these people forever and now playing on the same team with [Centreville point guard] Jenna [Green] and all them, it's a new feel, but I liked it."
Madison senior Katie Kerrigan has also been working hard, but in a different sport. After the Madison girls' basketball team lost to Stonewall Jackson in the region semifinals on Feb. 27, Kerrigan transitioned to her primary sport of lacrosse, which she will play at Ohio State University. On Sunday, she was back on the hardwood as a member of the West all-stars.
"It was definitely a lot of fun playing with the best players in the region," Kerrigan said. "It's definitely a little hard because I haven't touched a basketball in three weeks. It was fun. It was a great experience. I got to play with a lot of my close friends. It was a great way to end my high school career."
Kerrigan scored six points, played aggressive defense and got to play for Coach Stone one more time.
"It was fun," Stone said of coaching Kerrigan in the all-star game. "She's just a workhorse. You don't really see many of those. … I turned to the girls on the bench and I'm like, 'I would hate for her to have to guard me.' And they were like, 'it's awful.'"
THE EAST ALL-STARS led by as many as 22 points, when West Springfield's Amy Berglund scored to give the team a 76-54 advantage in the fourth quarter. Berglund finished with 10 points. She was one of four East players to reach double figures, and one of seven to score at least eight points.
Samantha Porter (Mount Vernon/Christopher Newport) and Amber Bryson (Lee) each scored 10 points for the East all-stars. Tykera Carter (T.C. Williams) finished with nine points, while Michelle Noel (Wakefield) and Tatianna Torres (Edison) each had eight. Caitlyn Mandela (Lake Braddock) and De'Ja Jeanpierre (Mount Vernon/Barton College) each had four points for the East, and Angie Schedler (T.C. Williams) had three.
For the West all-stars, Centreville's Green finished with 13 points and earned team MVP honors. Arnelle Collins (Freedom) scored 12 points and Alexia Johnson (Broad Run) had nine. Kayla Hix (Stonewall Jackson) and Bailey Dufrene (Osbourn) each had one point. Freedom's Nicole Lubovich also competed for the West team.
Centreville's Katie Blumer was a member of the West all-stars but sat out due to injury.
Lewis, who coached Edison to its second consecutive region championship this season, said allowing players to have fun was a priority, but she takes pride in winning.
"Absolutely," she said. "I hate to lose."
There was a 3-point shootout prior to the main event, which Berglund won with nine points in the final round. Dufrene produced a final-round score of eight, while Prock and Green each had a score of seven.
Berglund put up 19 points in the first round.
"My heart was racing, I don't know why," Berglund said. "I was pretty nervous. It was fun. I felt like I was in the NBA all-star [shootout]. My legs got tired in the second round, that's why my score dropped so much, but it was fun."