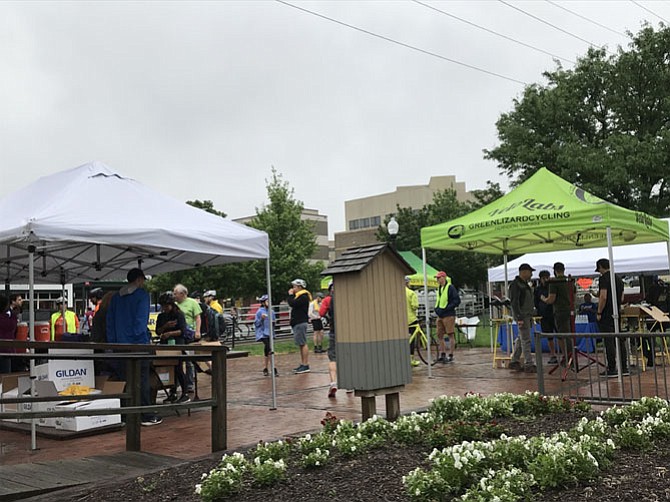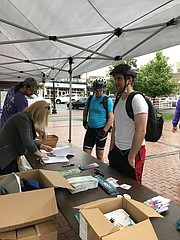 Rain and dreary weather did not stop thousands of cyclists psyched up, geared up and power-ready to pedal their way to their places of employment in the Washington D.C. area on Friday, May 18, Bike to Work Day 2018. Commuter Connections and the Washington Area Bicyclist Association (WABA) organized the event at the regional level with assistance from the Bike to Work Day Steering Committee, which met at the Metropolitan Washington Council of Governments (COG) in Washington, D.C. from September to May.
The goal for the event was "to increase awareness and participation in bicycling as a method of transportation to work instead of driving alone."
Cyclists by the hundreds showed up at each of the local 100 pit stops across the Washington metropolitan areas, including the pit stop in Herndon.
Herndon Parks & Recreation, Life is a Cycle, and Fairfax Alliance for Better Bicycling hosted the Herndon stop and sponsored by A-1 Cycling welcoming bicyclists with refreshments, bike repairs, and words of encouragement, especially needed for those out on their first ride of the season.
The Herndon pit spot, located at the intersection of Lynn and Elden Street, just off the W&OD trail, was one of the earliest pit stops to open and one of the few to offer an afternoon stop at the same location. Herndon welcomed cyclists arriving as early as 5:30 a.m. to 10 a.m. and again upon their return in the afternoon from 4 to 6:30 p.m. Registered attendees for the Herndon pit stop received their free t-shirts and chances to win bicycles and other prizes.
Organizers of Bike to Work Day 2018 encouraged first-time rider participants to join in the exciting experience through their Ride Buddy for Bike to Work Day program, using the online Washington Area Bike Forum, open to riders of all ability levels. Want-to-be cyclists could pick up a bike at one of the hundreds of Capital Bikeshare stations in Fairfax County, including the sixteen existing stations in nearby Reston. Many Bike to Work Day participants navigated their way to their places of employment via bike lanes, sharrows, on-street routes and via the W&OD Trail.